What Are The Needs Of Your Sales Team?
For many salespeople, the pandemic has created an entirely new reality. As one highly successful sales professional recently said: "I never realized how good I had it. I drove a nice car. Traveled a lot. Ate breakfast, lunch, and dinner at great restaurants—many times on my client's tab. I had it all." Then he said, "Now I live in a cage!" referring to his home office that he never leaves. While many people are embracing the new normal of remote and hybrid work with open arms, for extroverted, go-getting salespeople, the way we work today is proving difficult.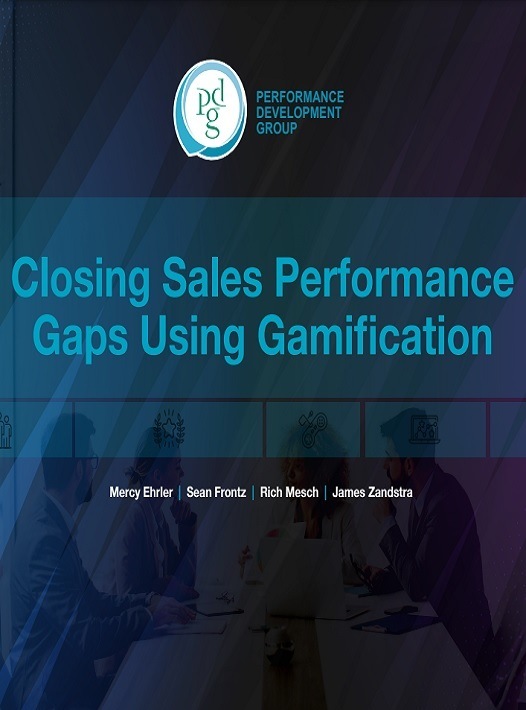 eBook Release
Closing Sales Performance Gaps Using Gamification
What if you turn your learning tracks and coaching into something that is fun, exciting, and entertaining and that actually closes sales performance gaps? Enter gamification.
Checking In With Your Team
How is your team doing? Not based on numbers. Numbers flow when the team member is doing well and is engaged. Instead, ask yourself: How is Melissa doing? How is Steve doing? How is Suzanne doing? Not their performance but their being.
Data shows that people are struggling with the current new reality. From parents juggling childcare while working from home and widespread workplace burnout to a sharp increase in people seeking treatment for stress, anxiety, and insomnia. People have found the last couple of years hard. And if employers don't act now, it's going to get a whole lot harder to retain and attract top talent.
Avoiding A Mass Exodus Of Top Salespeople
Employee engagement is at a critical juncture. Why are people leaving seemingly 'good' jobs? Because they can. After years of being at the mercy of their employers, employees suddenly have the upper hand. Organizations are crying out for fresh talent and employees are calling the shots for getting what they want. Never has the saying "people don't quit companies, they quit managers" been so true. And never has this been such a pressing issue for employers.
Each member of your sales team is unique. They have different skills and talents and abilities and attitudes. If any member of your team is not hitting quota, do you know why? Is it a skills issue? It's possible but unlikely. Organizations understand the value of a well-trained sales team, and they will invest heavily in high-quality sales training. Most professionals in the sales world know what to do, so knowledge isn't the issue—the issue is the application of that knowledge.
Focusing On The Right Challenges
Application of knowledge only happens when people are engaged in the systems and culture of the organization. They want to be a part of it, and they want to win. Do you know what is getting in the way of your sales team member from achieving their quota? It's almost certainly not their knowledge or training—so what is it?
Instead of immediately rushing to address a sales slump with more training, consider your team as individuals and the challenges they may be facing in their lives outside work. Ask: Is Melissa caring for a sick relative? Is Steve grappling with health concerns? Is Suzanne struggling to find childcare for when she's away on sales trips?
This is where sales managers need to step up and get to know their people as human beings, not just employees. Nobody wants to do poorly at work. Salespeople in particular pride themselves on hitting their targets and making sales. If performance isn't where it needs to be, don't assume it's because of a lack of skills or knowledge—it's highly likely it's a matter of engagement. Sales managers need the skills to identify low engagement, understand how to talk to their employees on a one-to-one level, and create a plan to get back on track.
In Sum
Anyone who is not achieving their sales quota has a reason for not achieving it. Not one member of the team signed up to fail. Ask yourself why this is happening. Realize that it has nothing to do with sales, product knowledge, or skills gaps. Something is standing in the way of their success. Until you can help your team identify what it is and then create the systems and culture to remove the obstacle, they will stay stuck.
Download the eBook Closing Sales Performance Gaps Using Gamification to identify and address pain points that prevent your sales teams from achieving their goals. You can also join the webinar to learn how to close gaps for good and help sales reps who struggle to meet their quotas.