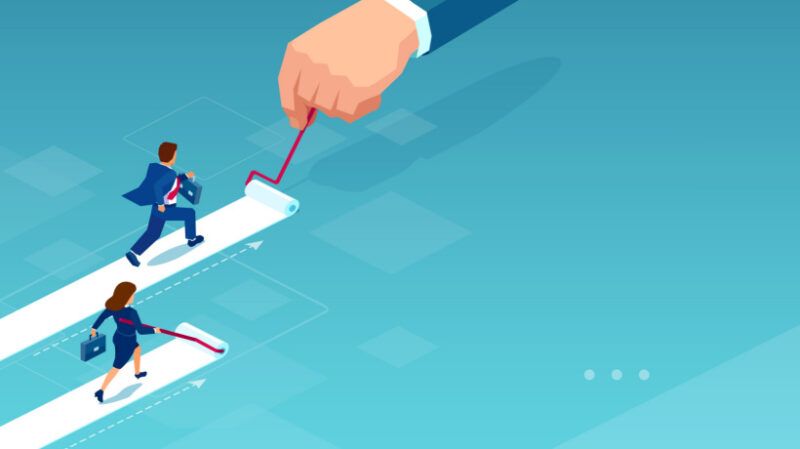 Personalized Corporate Training Plans That Wow Modern Learners
For a long time, corporate learning was centered around the organization. However, this didn't mean it necessarily catered to its educational needs but was tailored to make sense from a financial standpoint. Since training can be costly, organizations sought to get the most out of it, and the easiest way to achieve that was to have large numbers of employees enrolled on the same learning paths, regardless of role or level of expertise.
While this works for topics such as branding or safety in the workplace, it's not an excellent approach to skill and competency development. There has been a visible shift towards a learner-centric and personalized training strategy in the past few years. This will only grow in importance as today's employees want agency and autonomy over their development.
Personalized corporate learning is a much better and more effective way of tackling learning and development (L&D) challenges in large organizations.
Why Personalized Learning Is Suitable For Organizations
With the social and economic aftermath of the pandemic and the challenges brought by the Great Resignation, it's paramount for companies to find creative ways to keep and reskill their employees while also attracting new talent. Offering personalized learning is a great incentive as it shows that the company is interested and ready to invest in the growth of the people working there.
Furthermore, when learning is tailored to the needs of the individual, their motivation is intrinsic, leading to much better engagement and outcomes. It's also less time-consuming since people no longer have to go through an entire set learning path from beginning to end if they already have a certain level of expertise or if there are specific modules that don't interest or benefit them.
Today's learning platforms include intelligent capabilities, such as making personalized content recommendations based on individual learning goals.
Tips For Creating Personalized Corporate Learning Plans
Modern learners expect more from corporate learning plans. Companies should be ahead of the game and surpass their expectations. Here are eight useful tips:
1. Determine Individual Learner Needs
Training needs assessment has always been a part of corporate learning strategy. However, for the most part, this was done by learning specialists starting from the top – the first block of any learning path was talking to executives and managers in order to find out the top priorities and goals of the organization to ensure that any learning program aligns with them.
Then, learning consultants evaluated the learning needs of various groups to determine the courses they would need to support organizational goals. While these groups have a lot in common, no two learners have identical needs. Personalized corporate learning, helped by the newest intelligent technology, means running various assessments for each individual to determine the exact level of competency in an area while also spotlighting knowledge gaps. This is a much better way to find specific needs and the right course of action to fulfill them with a personalized learning plan.
2. Create A Plan For Each Job Role
The expansion of everything digital and new market demands also creates a wide variety of job roles. While this increased specialization is good for companies, it also presents a big challenge for the learning function. Training employees to fulfill such specialized roles requires having courses and modules for the particular skills associated with that function.
In the past, it would have been counterproductive, if not impossible, to have an individualized training plan for each role in the organization. Today, this is possible and made easy by platforms that can assess, diagnose and recommend appropriate learning content, both in-house and from third-party training vendors, to reach individual goals. These goals can even be the job roles themselves, as in the case of a Junior Digital Marketer seeking to become a specialist and then an expert.
3. Help Learners Set Training Goals
The fact that corporate learners can set their training goals is a great development in itself. Learning requires commitment and effort, so intrinsic motivation is key to a successful journey. The rise in corporate coaching and mentoring means that employees can access specialized support when setting their career goals.
Whether the goal is to acquire a new skill they need for the current job, or they are looking to upskill or reskill, corporate employees can decide their objectives. It's important to note that the shift towards a learner-centric approach to learning does not take away from supporting organizational goals. On the contrary, when people acquire new competencies or choose the path to reskilling, the company gains expertise and can be flexible in the face of challenges.
4. Create Flexible Learning Paths
Employees take center stage in personalized learning, which is great, but there's also a need to formalize the process and show quantifiable results. While each individual may start at a different point on a certain learning path, making these flexible and adaptive, instructors and learning specialists still build these in a more formal way.
Assessments will determine automated content recommendations based on individual needs so the learner will not see redundant modules. However, certain courses will always be needed for compliance, especially in industries with legal standards to abide by. Furthermore, individualized, autonomous learning is not opposed to formal achievements and certificates. These may be necessary for some fields and optional in others, but they still are one of the best ways of quantifying achievement. Since the learning paths are adaptive, the journey toward that achievement will vary for each individual, yet the training outcomes will be the same.
5. Focus On Learner-Generated Content And Social Learning
Just because learning is tailored to the individual and can be, for the most part, autonomous, it doesn't mean it happens in isolation. Social learning is paramount, especially in today's hybrid workplace environment.
Learners can also generate content by sharing resources they have found useful, interacting in groups and forums to discuss topics they are interested in and even participating in the in-house creation of new content. A big part of corporate learning is case studies, as they show applicability on the job. Constructive debates between employees, subject matter experts, and instructional designers can lead to highly valuable new content and even spark innovation in the organization.
6. Use Learning Recommendations
Being stuck on a set learning path that is only half relevant is a big demotivator for learners. However, having no path at all and being left to search and try to figure out what learning content is valuable and what isn't can be equally daunting. Personalized corporate learning means having guidelines for the various competencies and assessing the needs before offering curated automated learning recommendations.
The fact that the learner is provided only relevant content is helpful and efficient. Furthermore, when organizations cannot support the creation of enough in-house learning content, they can partner with third-party providers.
7. Use Feedback And Data To Assess The Learning Plan
The key to permanent improvement is feedback. It's essential to encourage learners to leave reviews and complete short surveys throughout the training program. This gives a good idea of how well they are doing and what they think about the content.
Taking one step further, learning analytics will show how engagement and training performance correlate with job performance and satisfaction. Employees who are invested in learning show more commitment to fulfilling their roles to the best of their ability. Analytics and feedback allow learning specialists to immediately intervene when something is not working, create or curate new content and prove the ROI of training.
8. Replicate Training Plan Success
Getting to the top is hard but staying there is even harder. As learning professionals, we know that achieving the results required by companies is difficult as there are many hurdles along the way – staff shortages, low engagement, the new wave of quiet quitting, and the overall climate of uncertainty. However, the learning function is essentially one of support, so it must fulfill its mission to the best of its ability. Using the comprehensive learning platform analytics and the learners' feedback, L&D departments can replicate the success for future learning plans.
Personalized Corporate Learning Done Right
Large organizations are faced with the challenge of training high numbers of employees. From onboarding programs to specialized skilling paths, corporate training programs must adapt to new demands and become tailored to individual needs to support company goals and retain employees.