Republican state lawmakers in Ohio were reportedly sent fecal matter through the mail, sparking a federal criminal investigation.
All 25 GOP members of the Ohio state Senate were recently sent "envelopes full of feces," according to a Thursday report from The Columbus Dispatch. The origin of the unwelcome deliveries, which the Republicans received on Thursday morning, is being investigated by the United States Postal Inspection Service (USPIS), the law enforcement arm of the United States Postal Service (USPS).
Ohio Senate Republican Caucus spokesman John Fortney told the newspaper that the still-unknown party that sent the envelopes were "pathetic, little cowards," while suggesting that he would like to engage in a physical confrontation with those responsible.
"They should've just sent a selfie, because it's the same thing," said Fortney. "I'd be more than happy to explain it to them in a parking lot or cornfield of their choice."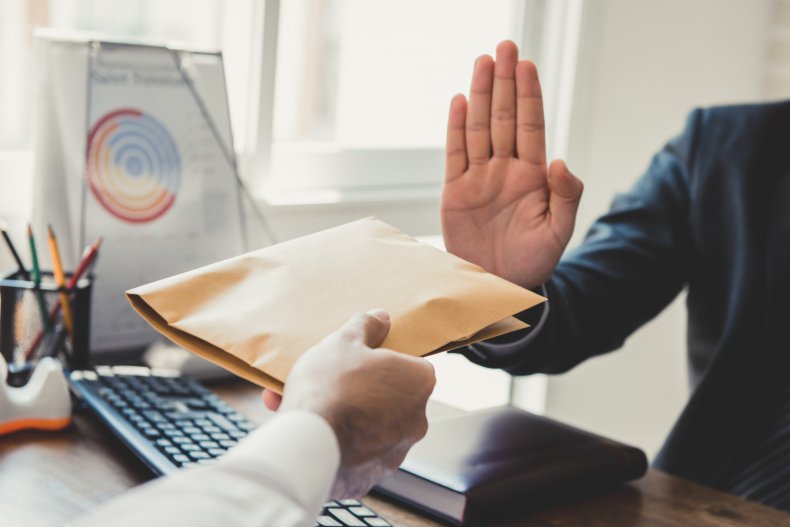 In a statement to Newsweek, Fortney said that "the Cleveland and Akron post offices and Statehouse mailroom intercepted the letters." He added that the Ohio State Highway Patrol (OSHP) had been notified and "the safety of all 33 members of the Senate, their staff and statehouse employees remains a priority."
Fortney also told Cleveland ABC affiliate WEWS that he assumed the feces were "human" and said he was "really angry about it."
"These are a bunch of little scared, little cowards that wouldn't say s**t or a thing to you face-to-face, right, they would rather send it in the mail," he continued.
Some lawmakers reportedly suggested that the deliveries were timed to coincide with Ohio's six-week abortion ban going into effect following the U.S. Supreme Court's reversal of Roe v. Wade.
Republican state Senator Kristina Roegner, who co-sponsored the abortion bill, told WEWS that she understood "people are very passionate right now." She added the abortion was a "very charged and emotional issue" and she was taking the unwanted delivery in stride to not "seem like a victim."
In comments to the Dispatch, Republican state Senator Jay Hottinger joked that Thursday was "just another crappy day," while also describing the deliveries as "gross and stupid" and "immaturity at its highest level."
Hottinger later shared the article on Twitter, highlighting a section that noted he previously "received an anonymous death threat and law enforcement were able to make an arrest."
While sending a person feces through the mail for the purposes of harassment is illegal, the practice is not rare.
A delivery service known as "Poop Senders" sends animal feces, which may or may not be real, though the mail with the stipulation that senders must sign a disclaimer pledging that the delivery is for "entertainment" purposes only.
Newsweek reached out to USPIS, USPS and OSHP for comment.