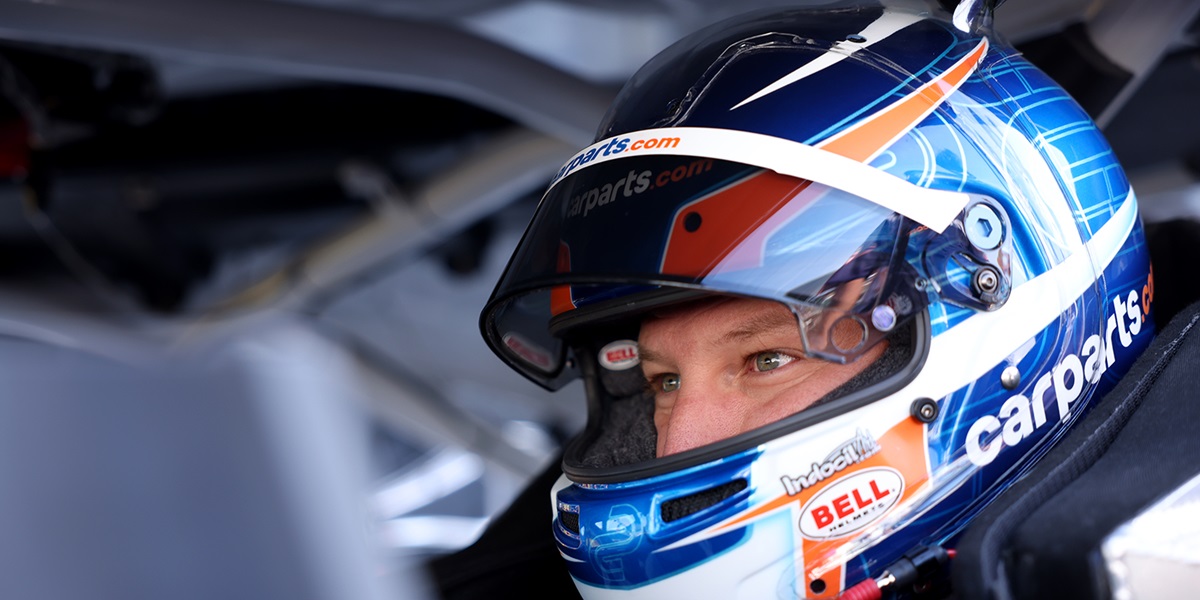 McDowell Took Unique, Different Route to NASCAR Success
It's no secret the Road to Indy offers one of the best paths through U.S. open-wheel racing. But Michael McDowell followed that route to a different destination: stock car racing.
McDowell, the 2021 Daytona 500 winner, launched his professional racing career in what was then the Star Mazda Series, now known as Indy Pro 2000. McDowell has nine career wins in the highest tier of the Road to Indy ladder system, including seven in 2004, when he also won the series championship.
At the time, McDowell dreamed of racing in the INDYCAR SERIES and even considered pursuing a career in Formula One after racing on the international karting circuit. But ever the realist, the 6-foot-2 McDowell knew he would struggle to fit in the tight confines of an F1 car, so he focused on North America's premier open wheel series.
McDowell raced on a Road to Indy scholarship in the 2003 and 2004 seasons he dominated with wins at places like Sebring International Raceway, the Mid-Ohio Sports Car Course, Road America and more. It was a performance that earned him a spot in the Indy Pro 2000 Hall of Fame in 2013.
"My path from go-karts to formula cars was always to be in open-wheel and pursue INDYCAR," McDowell said. "I had a dominant year (in 2004). It was crazy. It was kind of what launched my career."
McDowell realized his INDYCAR SERIES dream at age 20 with two Champ Car races in 2005. The opportunity arose after Ryan Hunter-Reay and team owner Paul Gentilozzi parted ways 11 races into the season, creating an opening in the No. 31 car.
McDowell drove that car at Surfers Paradise and Mexico City, scoring a best finish of 11th in Mexico in a car that fielded a future Daytona 500 winner and a future Indianapolis 500 winner in the same season.
While trying to make a career out of open-wheel racing, McDowell also raced sports cars in the GRAND-AM Rolex Sports Car Series. On the same weekend he raced to his best open-wheel finish, McDowell scored his first sports car win in Mexico City for Finlay Motorsports.
Still, McDowell wanted more out of open-wheel racing or sports car racing, and neither could offer him what he sought. So, the Phoenix native took the advice of Chip Ganassi Racing managing director Mike Hull and began pursuing stock car racing.
McDowell said he grew up an INDYCAR fan and admittedly didn't know much about NASCAR. But Hull saw potential in McDowell and put him in touch with Dodge's development program, the manufacturer CGR was aligned with at the time in NASCAR.
"That's how it went as far as stock car racing goes," McDowell said. "It was never really on the path and was never really in the plan, but there just wasn't a lot of opportunities (in open-wheel or sports cars). I felt like at 19 years old, to already be committed to sports cars at the time, I felt like I was not giving myself a shot."
It was just the shot McDowell needed. He began competing for Eddie Sharp in the ARCA Menards Series and scored three top-10 finishes in five races in 2006. In 2007, he won four races, scored 11 top-five finishes and 15 top-10 finishes in 23 starts, earning him Rookie of the Year honors.
The performance was enough for Toyota and Michael Waltrip Racing to bring him onto the team in the NASCAR Cup Series for the 2008 season in the No. 00 Aaron's Dream Machine. But the transition from open-wheel racing to stock cars was challenging for the driver that was relatively unknown.
McDowell arrived in NASCAR's premier series with just one start in the NASCAR Camping World Truck Series and four in the NASCAR Xfinity Series. Little was known about his single-seater background, and McDowell said that was intentional.
Some of McDowell's sports car racing counterparts had dabbled in NASCAR. They advised him to keep his open-wheel and sports car racing background to himself for fear he would be labeled as an outsider and put in a position to where he was just another road course "ringer."
"(They told me) if you're going to make a career out of it, you have to blend in," McDowell said. "So, when I went into ARCA, I didn't talk about my story, my history or any races I had won or any championships or where I came from. Nobody asked, and nobody cared. That was intentional of I just wanted to be a stock car driver.
"I didn't want to be known as an open-wheel guy or a sports car guy trying to make it in stock cars and to have that label. I sort of came in under the radar. I didn't try to make a big show of it. I didn't do a lot of self-promoting. I just went in there and raced, trying to learn as much as I could as fast as I could."
McDowell said the transition from open-wheel to stock cars was like starting over his racing career. As seven-time NASCAR Cup Series champion and NTT INDYCAR SERIES driver Jimmie Johnson has learned, it was more about breaking bad habits that worked well in one discipline but not the other.
Ironically, the part of stock car racing that was most challenging for McDowell to pick up was restrictor plate racing at Daytona International Speedway and Talladega Superspeedway, which forces drivers to race in big packs while never lifting off the throttle.
"When I first ran Daytona and Talladega, I thought it was the dumbest thing ever," he said. "You're wide-open, three-and-four-wide. I didn't even know what to do. You never pass, you're stuck next to somebody. It was the strangest thing for me. So far out of my element. I was brand new at it. I hated it."
McDowell quickly learned there was a very specific style to this kind of racing, and he noticed a few drivers always seemed to be in contention. So, McDowell used his background in Champ Car and GRAND-AM to learn how to succeed at Daytona and Talladega.
McDowell, 37, said drivers in open-wheel and sports cars are taught to be very data driven, understanding the engineering and studying the telemetry of the car. He said that technical aspect taught him to become a student of superspeedway racing.
He watched videos, studied data and paid close attention to the drivers that excelled at the high-banked racetracks. McDowell said it's how he qualified nearly last on speed in an underfunded car and turned it into a top-10 finish one year at Daytona.
Still, the Front Row Motorsports driver was struggling to convert his superspeedway talents into a race win. Finally, he realized he needed to run his own race, not worry about the drivers around him.
Then, last year, McDowell found himself third on the last lap of the Daytona 500 in the yellow No. 34 car, behind leader Joey Logano and second-place Brad Keselowski.
The then-Team Penske teammates wrecked entering Turn 3 on the final lap, and there was McDowell, driving through the smoke in the exact position he needed to be in to score the first win of his career on NASCAR's biggest stage.
"(Being a Daytona 500 champion) is awesome," McDowell said. "It's very rewarding because of the journey. The journey took a long time and a lot of struggles, so it's rewarding to have won the biggest race in our sport."
That Daytona 500 win was a career rejuvenation of sorts. The win put him in the NASCAR Playoffs, earning him his best finish in the championship at 16th. In 2022, McDowell has been having a career year.
Through the first half of the season, he has scored six top-10 finishes and one top five, the latter coming at the Sonoma Raceway road course in June.