With a new season comes exciting new openings and New York has plenty! Interactive art exhibits, dazzling holiday light shows, and tasty new cuisine await. Whether you're preparing for a wonderful winter weekend getaway or looking to make some snowy memories, be sure to add New York State's latest and greatest openings to your winter calendar. 
New Places to Stay | New on the Slopes | New Spots to Après-Ski | New Places to Eat and Drink | New Exhibits | New Events | New Attractions
Sip a local glass of wine and watch the snow fall from this four season Finger Lakes getaway. Scenically situated overlooking Canandaigua Lake, the newly-opened Hotel Canandaigua boasts 109 guest rooms many of which feature lake views, balconies, modern furnishings, Finger Lakes-inspired decor, and more. Even better, this stay offers 41 pet-friendly accommodations as well as a variety of accessible rooms and suites. On site, you'll find lake front dining at the Cove, offering brunch, dinner, and cocktails seven days a week. Skiers will be happy to hear that this cozy hotel is just a 20 minute drive from Bristol Mountain. 
Modern amenities meet rich history at the Canandaigua 1892 Hotel. Nestled on Main Street in historic Canandaigua, this private boutique hotel promises a luxurious yet cozy stay with five gorgeous rooms named after the lakes found throughout the region. Centrally-located, this hotel is perfect for exploring the area's best including wine trails, state parks, local shops and boutiques, art galleries, and nearby Bristol Mountain. There's also a variety of amenities offered on-site like in-room personal chef dining, bartending services, and local wine selections, if you're looking to have a cozy indoor snow day.
New additions at Holiday Valley (Chautauqua-Allegheny)
Exciting new upgrades are coming to Holiday Valley for ski season! A new state-of-the-art high-speed six pack chairlift will be replacing the former Mardi Gras high speed quad lift which means your journey up to the top of the slopes will be that much quicker. The lift accommodates two extra skiers during peak operating times and is expected to deliver 3,000 passengers per hour to the top of Mardi Gras and beyond. Holiday Valley is also adding a new PistenBully 600 snow groomer this season, keeping all that fluffy white snow in peak skiing condition.
New upgrades at Gore Mountain (Adirondacks)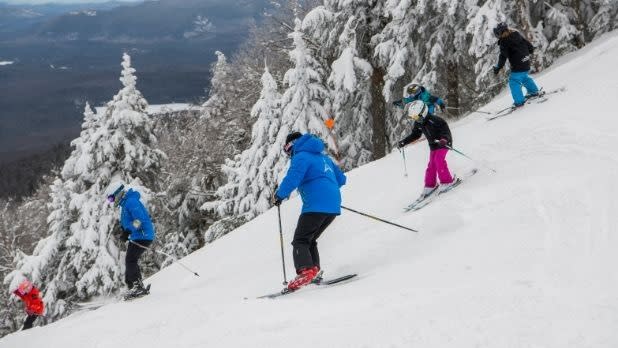 Big things are happening at Gore Mountain for the 2023-2024 season. The single Bear Cub Poma Lift is being upgraded to a conveyor-load quad, doubling its original length. This new addition is perfect for beginner lift-riders, making the loading process easier and preparing beginners for higher-level lifts. Passengers also now have the option to be dropped off at the Lower Sunway Trail or the top of Bear Cub Run. Snowmaking at the Ski Bowl is also being expanded this winter, allowing fresh snow to be made simultaneously on multiple trails, including for the first time on Moxham.
Credit: Foster Supply Hospitality
The ultimate cozy Catskill winter retreat awaits in Livingston Manor. On November 24, catch the debut of the Arnold House's Apres Ski-themed oasis (minus the skiing), Frostfire Lodge. This is the perfect spot for warming up after a chilly winter day fit with comfy couches, fire heaters, and oversized bean bag chairs. Relax with a warm beverage and watch a holiday movie in front of the big screen or defrost in the Frostfire Sauna. Join the lodge for their grand opening celebration with a bonfire, light bites, tasty cocktails, and more festivities from 2pm-8pm.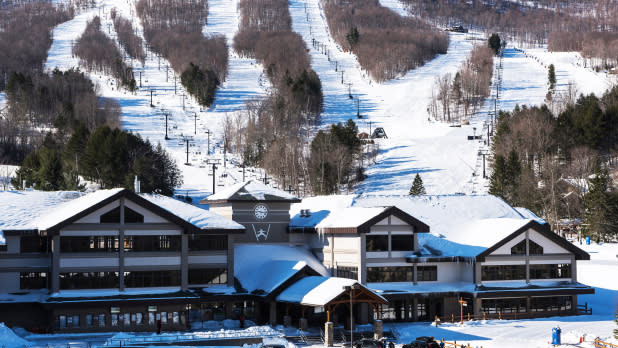 Prepare your taste buds for Windham Mountain Club's four new dining options debuting this season. Alpine ambiance meets Italian elegance at Cin! Cin!. This Italian Alps-style restaurant is located mid-mountain with stunning views of the surrounding Catskills and a carefully crafted lineup of wines. At the revamped Seasons restaurant located at the base of the lodge, you can enjoy Lebanese-Mediterranean cuisine mountainside with a menu featuring small plates and hand-crafted cocktails. The members-only grill and clubroom, the Windham, pays homage to the mountain's roots and features classic grill dishes and a world-class wine room. The lively Windham Mountain Club Foodhall features a full bar, hot grill items, fresh soups, salads, and sandwiches, as well as treats to take on the go. 
Tucked away among the beauty of Adirondack Park in Lake Placid, is a new  small-town Italian coffee house. Capisce Coffee has all your essentials from caffe lattes to iced americanos as well as unique creations like the matcha-chai combo called matchai and signature latte flights. This woman-owned and operated establishment also offers larger bites and delicious baked goods.
Relax with a pint at Garland City Beer Works' new Clayton tasting room location. This exciting new installment features an extensive tap list that includes Garland City's own craft brews made from the finest hops and locally-made Kaneb Ciders. Found right on Clayton's main street, it's the perfect spot to catch the big game or revel in the fun atmosphere.
The Tailor and the Cook is re-opening at a new location on Main Street in Utica this month. Originally opened in 2012, this hot spot for locally-sourced comfort food is rated one of the top 100 restaurants in America by opentable.com. The newly-renovated establishment will feature an expanded bar scene and a formal restaurant area, highlighting their superb beverage program with hand-crafted cocktails and local spirits. The Tailor and the Cook will also be open seven days a week for happy hour, dinner service, and weekend brunch. 
Korner Bar & Grille (Capital-Saratoga)
Classic dive bar fare meets a modern atmosphere at this new bar and grill coming to Colonie. Slated to open in January 2024, Korner Bar & Grille, owned by Innovo Kitchen owner and chef John LaPosta, will serve up all kinds of tasty favorites like burnt ends street tacos, uber cheese sticks, and crispy confit jumbo chicken wings. 
Cheer on your favorite team from the newly-opened Courtside Bar & Grill in Binghamton. Have a seat in the lively atmosphere, enjoy a pint, and feast on creative bar bites like the double decker grilled cheese sandwich or one of their signature burgers. Be sure to stop by for special events like Taylor Swift trivia and game day deals.       
Get a taste of New Scotland, NY at the New Scotland Spirits tasting room coming December 2023. This vibrant and lively tasting room will be serving up their popular Helderberg Whiskey Series and other specialty spirits that are all made from grains grown on local farms throughout Albany County.
Sizzling taco creations and decadent margaritas are coming to the heart of downtown Binghamton. Located on Court Street, Iron Agave is the place to enjoy an evening filled with delicious Tex-Mex fusion cuisine. This new upscale eatery will feature an impressive lineup of hand-crafted cocktails and tequila varieties and late-night hours.
The first ever exhibit dedicated to Billy Joel is opening at the Long Island Music and Entertainment Hall of Fame on November 24! As you travel through this exclusive exhibit titled Billy Joel – My Life, A Piano Man's Journey, you'll explore the 50+ year career of the legendary musician and Long Island native. On your visit, you'll get to admire some of the Piano Man's most prized possessions, rare memorabilia, behind-the-scenes videos, vintage instruments, and historic photos, many of which are donated by Billy Joel himself and have never been seen before in public. 
Another awe-inspiring artistic installment is coming to Schenecatady's Armory Studios this season. At Claude Monet: The Immersive Experience, you'll get to admire the French painter's magnificent masterpieces in a way like never before. More than 300 paintings and sketches are animated and digitized creating a complete 360 degree immersive adventure. Your journey also includes a chance to visit Monet's Atelier at Giverny, London, the Netherlands, and Norway via virtual reality glasses. The entire experience lasts around an hour and a half and is fully ADA compliant. Tickets are on sale now.
Share moments of joy at Lake George's newest winter experiences! Winter's Dream is a highly-immersive and magical multimedia installation featuring dazzling lights and original music held at the historic Fort William Henry Museum and opens December 8. Embrace winter wonderland as you stroll through the grounds of a historical fortress decorated with enchanting displays like the glowing trees in the winter woods and the cabin of dreams.
From the creators of Ice Castles, Winter Realms is also coming to town all winter long! Opening November 24, anyone and everyone can enjoy a magical experience twirling on the ice, sipping on frosty beverages at the Polar Ice Bar, gazing at stunning sculptures, wandering through Santa's Candy Court, cozying up in the warming stations, and more! Tickets for Winter's Dream and Winter Realms are on sale now.
Credit: @ayaylapix on Instagram
Just because the weather is getting cooler doesn't mean the fun has to end on Coney Island. For the first time ever, Luna Park is preparing to stay open for the winter months sprinkling endless holiday magic throughout the park. This means that you can enjoy all your favorite rides, games, and attractions (including the Cyclone) a little while longer and experience new holiday additions like the outdoor skating rink, Santa's Wonderland, a holiday market, and festive food options. Frost Fest officially kicks off November 18 and is open select dates through January 7. 
The only library and learning center dedicated to the Dalai Lama in the United States has just opened in Ithaca. Located in the Namgyal Monastery, it will be the only place in the world to contain the teachings of the current Dalai Lama and all former Dalai Lamas. The collection includes a digital audio archive of about 40,000 hours of the Dalai Lama's teachings, 4,000 books of translated ancient texts about the evolution of Buddhist thought, and Buddhist artifacts from India and Tibet.
---
Share New York State adventures with us on TikTok, Instagram and Twitter with #ILoveNY and #iSpyNY, and tag us on Facebook!