Winter is almost here and it's time to start planning your next adventure in New York State! Will you opt to head outdoors for snow-related activities like skiing the greatest vertical east of the Rockies or ziplining over snow-covered pines? For less extreme activities, explore world-famous museums, or get into the holiday spirit with a brilliant light show. Whatever you choose, take advantage of the winter wonderlands and check out these must-do winter activities throughout New York State! 
Masks are encouraged, but optional in most settings per New York State guidelines. Individual businesses or attractions may require mask wearing. Call ahead and check websites and social media to make sure attractions and amenities are open and available.
1. Hit the Slopes on a Ski Getaway (Various Regions)
 
With the most ski resorts of any other state in the nation, world-class skiing is always close by in New York. The scenic Adirondacks region is home to Gore Mountain, which offers more skiable acreage than anywhere else in the state, and Whiteface Mountain, a 1980 Winter Olympics site with the greatest vertical drop east of the Rocky Mountains. Bristol Mountain (pictured) in the Finger Lakes takes you to new heights of excitement, beauty, and challenge, thanks to its 1,200 foot vertical rise. Never been on the slopes? No problem. Resorts from Chautauqua-Allegheny's Holiday Valley to Greek Peak in the Finger Lakes to Hudson Valley's Catamount Mountain will help you get your ski legs with lessons to make you comfortable going downhill. There's plenty of time to relax, play, and dine after skiing at the luxury spas, cozy lodges, and fine restaurants that you'll find both at the resorts as well as neighboring villages and towns.
2. Go for the Gold in Lake Placid (Adirondacks)
There's "snow" better place than Lake Placid! Nestled in the heart of the Adirondacks, this winter playground boasts a charming walkable downtown featuring ample shopping and a rich culinary scene. A two-time host of the Winter Olympic Games—which included the dramatic 1980 U.S. hockey victory over the Soviet Union, known as "The Miracle on Ice"—this alpine village remains a magnet for world-class athletes today. Catch the inaugural Adirondack Winter Invitational as some of the best men's college hockey players in the nation meet for two days of action in the historic 1980 Herb Brooks Arena (December 29-30). February brings the Ski Jumping World Cup, when you can see elite ski jumpers soar at the Olympic Jumping Complex (pictured). Explore Lake Placid's rich winter sports history all season long at the Olympic Center and Museum and legacy sites including Whiteface Mountain, the Oval, Mt. Van Hoevenberg, and more. 
3. Get Out on the Ice (Various Regions)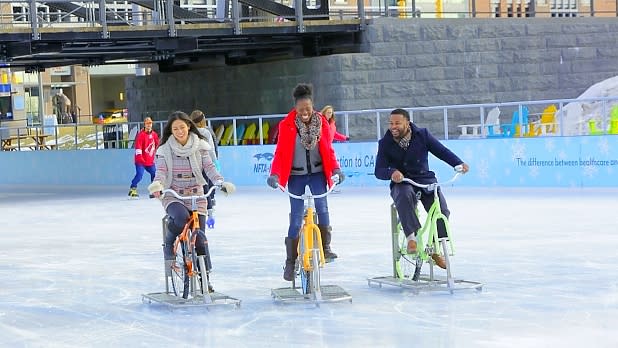 Find hours of outdoor fun at the Ice at Canalside in Buffalo, where you can lace up your skates, ride a unique ice bike (pictured), and try out the ice bumper cars before getting cozy in a heated igloo. From December through March, the reflecting pools outside the grand New York State Capitol building in Empire State Plaza transform into an ice skating rink, welcoming thousands of visitors every year to enjoy free skating, a full-service snack bar, and special events. New York City is home to some of the most classic and iconic skating rinks at Rockefeller Center, Bryant Park, and Wollman Rink. Bear Mountain State Park, just 45 miles north of Manhattan, has a beautiful outdoor rink nestled against Bear Mountain with views of the Hudson River. Have some winter fun in the snowiest city in America at the Clinton Square Ice Rink, which lies in the heart of downtown Syracuse amid some of the city's oldest and most beautiful buildings.
4. Pamper Yourself! (Various Regions)

Treat yourself to a little rest and relaxation on a blissful spa day or getaway. Mirbeau Inn & Spa in the Finger Lakes offers the charm and comforts of a French manor house with picturesque grounds, rooms with cozy fireplaces and oversized soaking tubs, and centerpiece spa with a hot spa pool, sauna, steam room, and full-service treatment menu. Bask in timeless luxuries like mineral baths, facials, and body scrubs at the historic Roosevelt Baths and Spa in the Capital-Saratoga region and feel your worries melt away at the Hudson Valley's all-inclusive Victorian castle resort Mohonk Mountain House. 
5. Go Snowmobiling Along Powdery Trails (Various Regions)


Credit: @lprignon on Instagram
Discover glittering wintry landscapes on a snowmobile as you glide along the more than 8,000 miles of snowmobile corridor trails that crisscross New York State. Head to the Adirondacks' Tug Hill area (pictured) for hundreds of miles of heavily forested trails, as well as trailside restaurants and hotels that cater to the winter snowmobiling community. Letchworth State Park has more than 25 miles of trails offering riders spectacular views of the gorge and waterfalls at this marvel known as the "Grand Canyon of the East." Discover the endless miles of snowmobiling this winter in New York State.
6. Go Snow Tubing or Tobogganing (Various Regions)
Looking for another way to experience the rush of hurtling downhill in winter? Just dress in your warmest and embark on an epic snow tubing adventure in New York State. Peek N Peak Resort in the Chautauqua-Allegheny region boasts a seven-lane tubing hill plus a "Magic Carpet" conveyor lift that takes you and your tube back uphill for another thrilling slide down. After dusk, enjoy the ride during Lunar Lights Tubing (pictured), complete with a mesmerizing light show and live DJ. You can slide down a mountain in a giant inflated tube all across the state from Titus Mountain in the Adirondacks to Plattekill Mountain in the Catskills. Also try tobogganing in Chestnut Ridge Park, where the chutes have been operating since the 1930s from atop an impressive sledding hill, and in Lake Placid, where riders are sent down an ice-covered chute onto frozen Mirror Lake.  
7. Experience Central Park in Winter (NYC)
New York City's iconic Central Park is beautiful in every season, with winter being no exception. Snowshoe the wide-open meadows, see landmarks from Bethesda Foundation to Belvedere Castle sparkle in a dusting of snow, feed the penguins at the zoo, go ice skating at Wollman Rink, or admire the falling flakes from Bethesda Terrace Arcade while standing in the only place in the world that bears a Minton tile ceiling. Enjoy the snow-blanketed park from above with a meal at The Met Dining Room, the restaurant at Bergdorf Goodman, and Asiate — all of which overlook the park providing sweeping views of the wintry landscape. Don't miss the annual Winter Jam in February to enjoy ice carving, sledding, curling, ice bowling and more in this urban winter wonderland.
8. Wander Through a Glowing Wonderland (Various Regions)
Your days are sure to be merry and bright thanks to dazzling light shows that transform notable attractions across New York State into twinkling dreamscapes. Drive through the Magic of Lights at Long Island's iconic Jones Beach, find your groove at Peace, Love, and Lights at the Bethel Woods Center for the Arts, enter an enchanted forest at Wild Center Wild Lights (pictured), and more. Find more ways to light up your winter with our blog on 13 Awe-Inspiring Light Festivals in New York State.
9. Visit a Botanical Garden (Various Regions)
Escape the gripping cold and step into a warm tropical paradise at one of New York State's beautiful botanical gardens. The Buffalo and Erie County Botanical Gardens (pictured) is full of exotic horticulture treasures from around the world. In winter, the magic of the holiday season comes to life at its Poinsettia Exhibit (through January 1) which is even more dazzling after dark as the floral display is bathed in a soft, colorful glow. The Brooklyn Botanic Garden's Aquatic House is often warm and sunny, making it an inviting respite on a cold winter day. With colorful blooming orchids and tropical plants cascading from hanging pots and floating on garden pools, you'll feel as if you've been transported to another world. New York Botanical Gardens also has palm trees, cacti, and other warm-weather plants from around the globe on display at the Enid A. Haupt Conservatory.
10. Discover Frozen Waterfalls (Various Regions)
New York's waterfalls are lovely any time of year, but there's something magical about seeing these rushing cascades frozen over in winter. Two of the state's most famed attractions, Niagara Falls and Letchworth State Park, feature some of the most grandiose and inspiring frozen waterfalls anywhere. Scope out the surreal beauty of these icy wonders at High Falls, a 95-foot-tall waterfall in downtown Rochester, and Taughannock Falls State Park, where an overlook remains open in winter when trails to the base are closed.  The frosty fountains at the New York Botanical Garden and in Central Park in New York City are also a sight to see!
11. Embark on a Wintry Wine Tasting Tour (Various Regions)
Think a visit to Long Island's wine country is just a summertime thing? Think again. Experience the peaceful serenity of the North Fork amid the snow-covered vineyards at One Woman Wines and Vineyards, Suhru Wines, Coffee Pot Cellars, Sparkling Pointe, and Kontokosta, which is perched atop sweeping bluffs overlooking the Long Island Sound. Taste the fruits of the frost in Lake Erie Wine Country in the Chautauqua-Allegheny region, home to several vineyards specializing in ice wine including 21 Brix Winery, Leonard Oakes Estate Winery, and other wineries along the Niagara Wine Trail. You'll also find this refreshing and sweet dessert wine made from grapes frozen on the vine at wineries across the Finger Lakes, including Casa Larga (pictured).
12. Experience a Winter Carnival or Festival (Various Regions)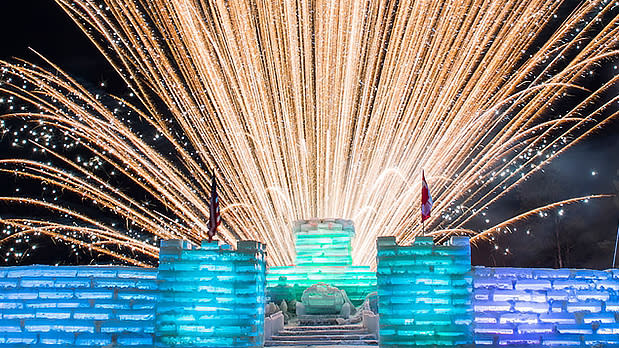 It's never too late to start a new family tradition that you can enjoy together every year. One of the crowning events of the season is a 10-day extravaganza in the Adirondacks, the Saranac Lake Winter Carnival (pictured). Slated for February 2-11, this annual fete features fun for the whole family with a life-sized ice palace, traditional fry pan toss contest, and nightly entertainment at venues throughout town. Syracuse Winterfest is a party where all ages are invited. Enjoy dozens of indoor and outdoor events, cook-offs and tastings, as well as dazzling fireworks. The 11 days of fun kick off on February 15. Discover a land of arctic magic and wonder with a large ice skating rink, polar pub ice bar, and whimsical sculptures crafted from snow and ice at Lake George's Winter Realms (November 24-March 2024) and explore a rich world of wintry lights, music, sounds, videos, and interactive moments at Winter's Dream (starting December 8). For the first time ever, Coney Island's Luna Park is extending the summer fun into winter with Frost Fest (November 18-January 7) featuring a skating rink, rides, holiday lights and shopping, festive food, and photos with Santa.
13. Pretend It's Summer at an Indoor Waterpark (Various Regions)


Credit: The Kartrite Resort & Indoor Waterpark
Is the snow and cold getting old? How does a perfect 84-degree day sound? Get a taste of summer this winter at New York State's indoor waterparks. The Kartrite Resort & Indoor Waterpark (pictured) provides a tropical escape in the heart of winter in the foothills of the Catskill mountains. Fun for all ages, New York's largest indoor waterpark features five thrilling water rides for older kids and adults, a Jungle-themed lazy river, and plenty of attractions for little ones. The Kartrite Resort is also home to other indoor activities, such as the Playopolis Arcade, Van Winkle's bowling alley, the Scrapeskyer climbing wall, 3D gaming experiences, and more! Find 500 feet of waterslides and a wild wave pool at Cascades at Greek Peak Mountain Resort in the Finger Lakes and take a leisurely float along the lazy river at Lake George's Six Flags Great Escape Lodge.
14. Mush Across the Ice and Snow on a Dogsled (Adirondacks)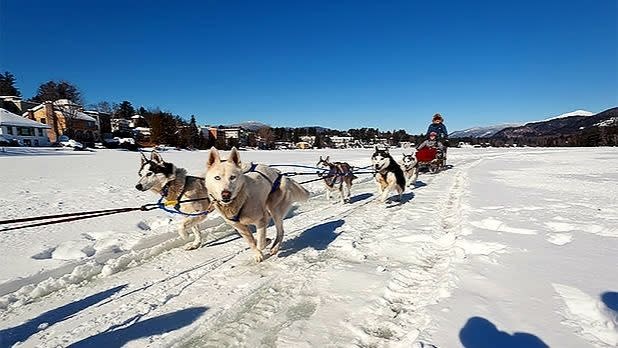 Dogsledding is one of the most unique winter activities available in New York State. Feel like you're soaring across the world when a team of specially-trained sled dogs carries you across the surface of a frozen lake or through snow-covered forested paths. Thunder Mountain Dog Sled Tours in the Adirondacks offer rides across the frozen surface of Mirror Lake in downtown Lake Placid. Mike Arnold Dog Sled Rides also races across Mirror Lake in the cold, crisp air of Lake Placid.
15. Après-Ski—Even if You Don't Ski—at These Cozy Locations (Various Regions)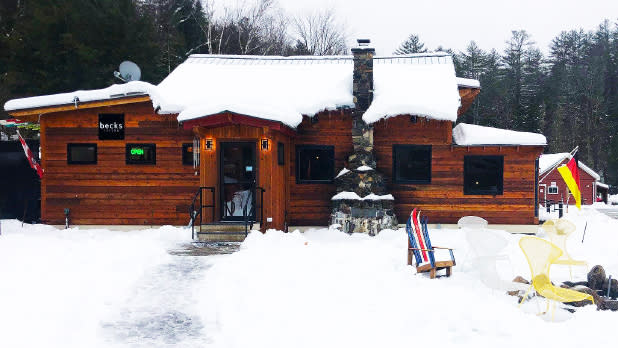 Luckily, there's no prerequisite to participate in après-ski festivities. You don't need to spend the day waiting in lift lines or hurling yourself down a steep slope in order to enjoy the atmosphere that prevails as the sun sets in ski towns across New York State. This winter, head to Becks Tavern (pictured) next to Gore Mountain in the Adirondacks for German-inspired fare. Holiday Valley Resort in Chautauqua-Allegheny, has a lively après scene. Zoom along a mountain coaster, relax at the spa, or unwind with a local craft beer at the nearby Ellicottville Brewing Company. Hunter Mountain in the Catskills has a reputation for being a hot spot for winter fun, and the Jagerberg Beer Hall and Alpine Tavern at the base of the ski resort is a favorite après-ski spot for locals and visitors.
16. Fly Over the Landscape in a Snow Kite (Long Island)
Snowkiting is winter's most exciting adventure sport you may not have heard of yet. Use the power of the wind to fly across snow-covered fields. NY Kite Center on Long Island offers intro classes for $299.99 that covers learning how to read the wind and fly, how to rig your kit, and stay safe. All gear is included in the lesson. Speaking of learning how to fly, the Cradle of Aviation Museum in Garden City is a must-visit. Discover the history of aviation and space flight in the place where so many airfields once stood that it became known as the "cradle of aviation." See over 75 air and spacecraft, including a Blue Angels aircraft, hot air balloons, the 13th Lunar Module, and an extensive Apollo artifact collection featuring spacecraft and more.
17. Enjoy a Local Craft Beer (Various Regions)
Craft brewing is a proud tradition with a long-standing history in New York State. Renowned for its creative blends of seasonal fruits and local ingredients, you'll find unique flavors around every corner. Visit Brewery Ommegang in Central New York for Belgian-inspired specialty and seasonal ales, such as "Everything Nice," a strong blonde ale with notes of cinnamon, nutmeg, and other wintry spices. At The Lake Placid Pub & Brewery, you'll find its flagship microbrew coined the "Ubu Ale", adorably named after a regular customer's chocolate labrador. For a brew with a view, head to West Kill Brewing (pictured) where every beer is made using pure mountain well water. For more amazing brewery experiences in New York State, see our guide here.
18. Go Ice Fishing on a Lake  (Various Regions)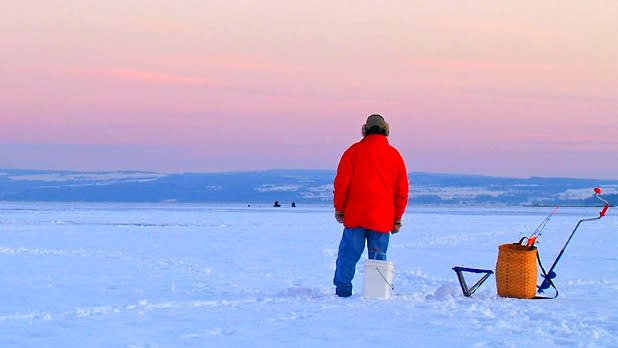 As Lake Ontario freezes it becomes an ice fishing village with fishing huts dotting the horizon. Other shanties, as they're called, pop up throughout the Finger Lakes, such as on Skaneateles Lake (pictured). Ice fishing season opens in December, and anglers stake their patch of ice to fish for panfish, perch, and pike. If you have always wanted to go ice fishing but didn't know where to start, book a trip with an ice fishing guide to walk you through the setup, tricks, and techniques you'll need to know, as well as provide you with all the gear you need. You'll still need to get a fishing permit yourself, however.
19. Explore secrets of ancient Egypt, Native American traditions, and more at New York's museums (Various Regions)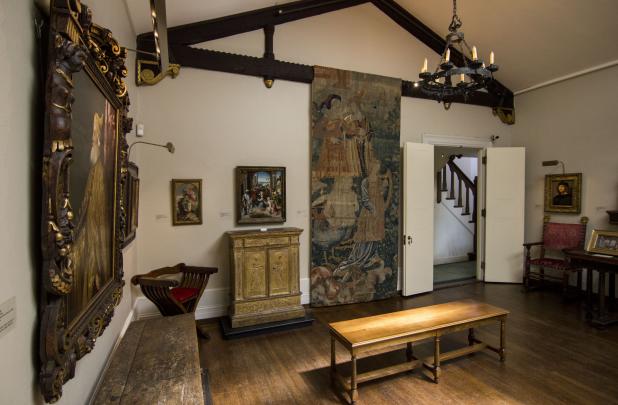 Dive into the rich culture and history, as well as interactive fun, offered at museums across New York State. From Old World masters found on museum walls in the Adirondacks to a 3,000-year-old mummy hiding out in the Capital Region, there are exciting exhibits to see this winter. Visit the Albany Institute of History and Art's Ancient Egypt exhibit to see artifacts including the mummy of Ankhefenmut, a priest and sculptor from the Ptolemaic Period or head to the First Peoples exhibit at the New York State Museum to see a life-size reconstructed longhouse and contemporary Native American art. At the Hyde Collection Art Museum and Historic House (pictured) in the Adirondacks, the small-but-impressive permanent collection includes a Picasso, a Rubens, and a Rembrandt. 
There are nearly 200 well-maintained places to go cross-country skiing in New York State. From Allegany State Park in Chautauqua-Allegheny to The Fields Sculpture Park at Omi in the Hudson Valley, discover the thrilling joy of gliding over snow-covered fields on Nordic skis. If you've never been cross-country skiing before, sign up for a lesson! At Lake Placid's Olympic Sports Complex, you can learn how to pace your skiing and chat with coaches who likely taught or skied with local Olympic biathletes. For a real New York State winter adventure, head to Central New York's Osceola Tug Hill X-C Ski/Mtn Biking Center to experience over 20 miles of groomed trails. The Tug Hill State Forest offers ample cross-country skiing trails, as well as waterfall features.
Strap on your snowshoes to explore winter wonderlands not accessible by ski or snowmobile. Saratoga Spa State Park is a time of rare beauty in winter when the National Historic Landmark opens for snowshoe and cross-country skiing explorations on 12 miles of trails. Find equipment rentals at the Park Office and experience this summer destination when winter's snow transforms the landscape.
21. Coast or Climb Wintry Landscapes (Various Regions)


Credit: @basilt on Instagram 
Whether you're looking for an ice climbing guide, or for new walls to conquer, there are plenty of destinations across New York State that offer climbing for all abilities. Book a guide and hit the 'Gunks (pictured) for a winter climbing 101 course and master the basics. If scaling icy rocks outside doesn't sound appealing, head to Niagara Climbing Center or the Hudson Valley's BC's Climbing Gym for indoor rock climbing. Feel the need for speed? At Holiday Valley, you can ski or snowboard, sure, but for a unique experience, go for a ride on the Sky Flyer Mountain Coaster! This rollercoaster-like ride through the woods is breathtaking in winter, first heading up the hill, then zigging and zagging down it on the rails, controlling the speed as you go. 
22. Cozy Up to the Fire (Various Regions)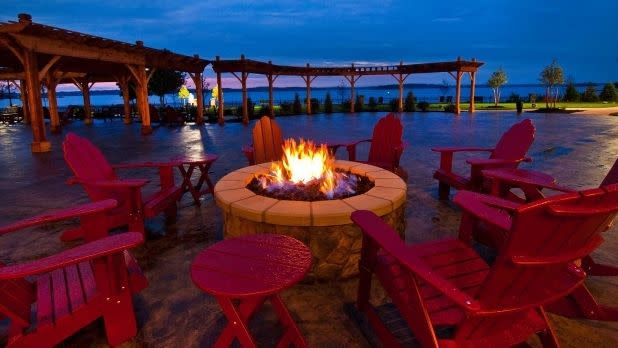 If your idea of a perfect winter day involves basking in the warm orange glow of a fire with a book in hand or glass of wine, then you're in luck. Thaw out in a room complete with a stone fireplace at the rustically elegant Lake Placid Lodge or warm up over a cocktail while listening to the crackling flames at the cozy Library Bar at The Inn at Erlowest. Keep the chill away by the huge fireplace inside the 1000 Islands Harbor Hotel (pictured) or venture outdoors where the riverside patio is punctuated with roaring fire pits. Raise a toast while you get toasty at Albany Pump Station, home of C.H. Evans Brewing, which features a massive fireplace that stretches all the way to the ceiling or gather 'round the blazing fire pits on the patio at Woodstock's Tinker Street Tavern.
23. Zipline Over Snow-Covered Trees (Finger Lakes)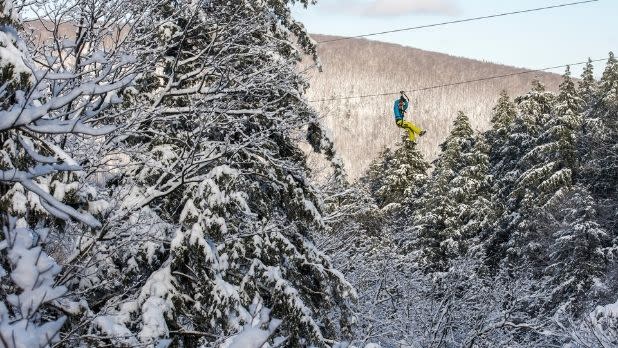 Ziplining is a favorite adrenaline junkie sport any time of the year. Get your thrills and chills at Bristol Mountain Aerial Adventures (pictured) where zooming along seven ziplines measuring a total of over 5,000 feet will treat you to spectacular views of the Bristol Valley as you soar through the trees ($109 per person). Greek Peak Mountain Resort runs a two-line ziplining tour in the winter, which takes about two hours, for $60 per person.
---
Share New York State adventures with us on TikTok, Instagram and Twitter with #ILoveNY and #iSpyNY, and tag us on Facebook!