It's not everywhere that you can experience so many diverse wine regions all in one state! Sip, swirl, and relax in New York, home to over 35,000 acres of wine country and the nation's third-largest wine-producing state. From Long Island's superb reds and sprawling farmland vineyards to the Finger Lakes' internationally-acclaimed whites and dazzling lakeside views, New York's wine regions are waiting for you to explore! Here's how to make the most of your time in Empire State wine country.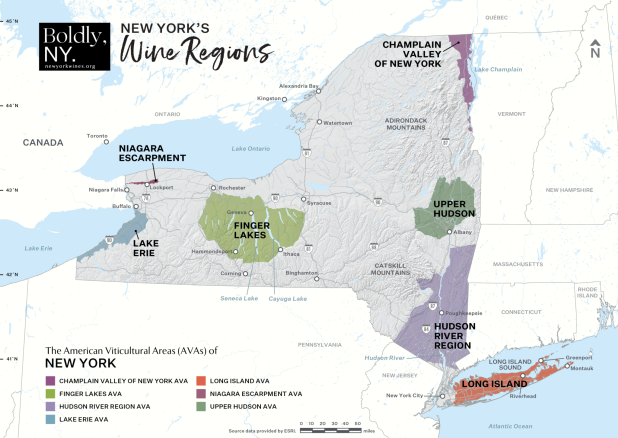 Masks are encouraged, but optional in most settings per New York State guidelines. Individual businesses or attractions may require mask wearing. Call ahead and check websites and social media to make sure attractions and amenities are open and available.
Originally published 05/23/2023
JUMP TO: Finger Lakes Wine Country | Long Island Wine Country | Hudson River Wine Region | Lake Erie Wine Region | Upper Hudson Region | Champlain Valley Wine Region | Niagara Escarpment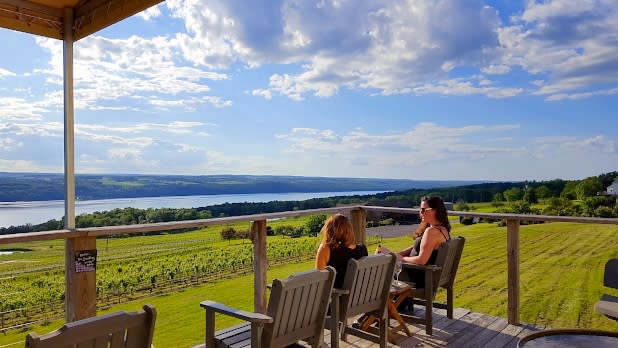 With sweeping one-of-a-kind, scenic lake views and world-renowned wine it's no wonder the Finger Lakes is the USA Today 10Best Readers Choice 2018 winner of best wine region in the country! Home to over 130 wineries and four distinct wine trails, Finger Lakes Wine Country specializes in aromatic white varieties including Riesling and Gewurztraminer, but has recently found success with cool-climate reds like Cabernet Franc and Pinot Noir.
Where to sip 
Explore America's first-organized and longest-running wine trail while you take in Cayuga Lake's scenery. Along the trail, you're spoiled for choice, with almost every member winery boasting jaw-dropping lakeside views you just can't find anywhere else. Be sure to stop at award-winning Cayuga favorites like the 2017 NYS Governor's Cup winner for Best Wine, Buttonwood Grove Winery, Governor's Cup and John Rose Riesling award-winner, Thirsty Owl Wine Company, and New York International Wine Competition 2017 Dry Riesling Winery of the Year, Hosmer Winery, just to name a few.
Photo by Emma Frisbie
Relax with a glass of wine from renowned vineyards while you admire glacial lake waters glistening in the sunlight. Keuka Lake Wine Country is as historic as it is beautiful, home to the first bonded winery beginning in 1860, and the site where the first Vinifera vines were planted in the Eastern United States, Wine & Spirits' 2023 Top 100 award winner, Dr. Konstantin Frank Winery. Along the trail, you'll find two-time Best White Wine in America Winner, Keuka Spring Vineyards, specializing in Riesling and Gewurztraminer and Hunt Country Vineyards, the oldest continuous producer of genuine Ice Wine in the United States. For the ultimate wine trail experience, check out the Keuka Lake Wine Trail digital passport ($54), where you can redeem tasting flights at five wineries, discount offers, and a guide to navigating member wineries. If you're still chasing those breathtaking Keuka views, enjoy a glass from one of the balconies or the tasting room at Living Roots Winery's Shale Creek Vineyard (pictured), opened in summer 2023 and named best new winery at the Halliday Wine Companion awards. Domaine Leseurre Winery is also a must-stop, with roots that hail from Champagne, France and stunning views of the lake from the outdoor patio and tasting room. 
Overlook Seneca Lake's calming blue waters and sample exceptional cool-climate wines along this relaxing wine trail. Characterized by its "lake effect" meso-climates found along the water, the trail's 26 member wineries are able to produce over 600 wine varieties that are "Grown Here. Made Here." On the path, is New York Wine & Grape Foundation Lifetime Achievement award-winner, Lakewood Vineyards. Follow along a guided vineyard tour complete with a sampling or simply sip and admire the stunning view from the back deck. You'll also find the 23-acre Ventosa Vineyards, that provides a "taste of Tuscany in the Finger Lakes" with 100% estate-grown wine, fresh food from the on-site cafe, and a sprawling vineyard with a lakeside view that'd make even Tuscany jealous.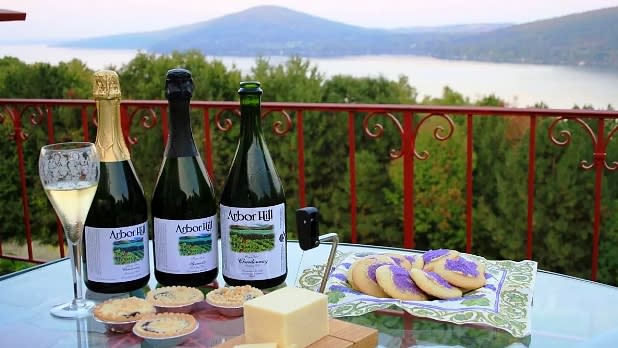 Experience 30 miles of Finger Lakes wine and food tastings (like grape pie) along the western side of Canandaigua Lake all the way from Victor to Naples. This small but mighty trail consists of five member wineries, each with a unique story, atmosphere, and stunning scenery. Be sure to stop at Arbor Hill Grapery and Winery (pictured) in Naples. It's New York's first certified craft winery and specializes in new and historic grape varietals, and gourmet food products. Heron Hill Winery's satellite tasting room is also a must-stop. Sip their specialty Cabernet Franc and Riesling in the 100-year-old renovated barn! For exclusive tastings and discounts check out the Canandaigua Wine Tasting passport ($45).
Where to eat
A good wine-tasting experience isn't complete without a bite to eat! If you stop at Thirsty Owl Wine Co. on the Cayuga Wine Trail, you'll find the on-site bistro, offering wine-complimenting dishes made from fresh, local ingredients. Veraisons Restaurant at Glenora Wine Cellars on the Seneca Trail serves seasonal and regional cuisine from their luxurious dining room and terrace. Cafe Toscano at Ventosa Vineyards serves up delicious Mediterranean-inspired fare. Monica's Pies in Naples is a must-stop for region-famous grape pies along the Canandaigua Wine Trail.
Where to stay
Photo courtesy of the Inn at Glenora Wine Cellars
With four wine trails, beautiful scenery, and so much to experience in the Finger Lakes region, you'll want to spend the weekend taking it all in! The Inn at Glenora Wine Cellars (pictured) houses 30 spectacular rooms overlooking the vineyards and Seneca Lake. Experience the romance of the Finger Lakes at one of Buttonwood Grove Winery's Cabins for a secluded B&B experience. Stay just steps away from Taughannock Falls and overlook Cayuga Lake at the Inn at Taughannock Falls. The Gould Hotel offers a historic lodging experience in the heart of wine country, sitting adjacent to the Women's Rights National Historical Park.
How to get around
What better way to explore Finger Lakes Wine Country than with an experienced tour guide by bus, limo, or even boat! Finger Lakes Winery Tours offer transportation through the Cayuga, Keuka, and Seneca Lake wine trails for groups of up to 56 people. Crush Beer and Wine Tours will transport you to beautiful views and provide an educational wine experience on various themed tours. For the ultimate Finger Lakes experience, set sail on a 5-6 hour Water to Wine Tour and take in beautiful lakefront views while you visit award-winning wineries!
Things to do in the area
A trip to the Finger Lakes isn't complete without visiting some of its most popular attractions! Explore the world's largest collection of contemporary and historical glass objects at the Corning Museum of Glass. Learn about the first Woman's Rights Convention held right in Seneca Falls at the Women's Rights National Historical Park. Peruse a 40,000-piece art collection at the Herbert F. Johnson Museum of Art. If you're still searching for more spectacular outdoor experiences, admire 19 cascading waterfalls at Watkins Glen State Park.
Photo courtesy of Bridget Elkin Photography, Long Island Wine
Cheers to 50 years of Long Island Wine Country on 2,000+ lush acres of one of the world's favorite wine regions! 2023 marks 50 years since its establishment in 1973 and a visit to this world-class wine region is one you don't want to miss. Home to sandy soil and a moderate climate perfect for grape growing, Long Island Wine Country is a must-visit for wine enthusiasts and casual travelers. It's best known for its superb reds, Bordeaux blends, Cabernet Sauvignon, Merlot, and gorgeous, nationally-acclaimed white sand beaches, of course.
Where to sip 
Photo by Anna Pakman
Discover the charming nature of one of the largest and most preserved agricultural regions in New York State with more than 60 rural but luxurious vineyards along the North Fork Wine Trail. On your travels, you'll find the 80-acre Paumanok Vineyards, well-known for its award-winning wines that have even been served in the White House! 2021 Governor's Cup Winner, Pindar Vineyards (pictured) is Long Island's largest winery and home to a sprawling sunflower field that's sure to take your breath away.
The Hamptons (South Fork) Wine Region
Explore magnificent wineries on Long Island's famous Hampton Wine Region specializing in white wines from Vinifera varieties like Chardonnay and Riesling to reds such as Cabernet Franc and Merlot. Be sure to stop at one of Long Island's most well-known vineyards, Duck Walk Vineyards. Their two gorgeous locations in Southampton and North Fork inhabit 140 acres combined and produce over 5,000 cases of wine a year! Gaze out into 55 acres of luxurious vineyards at Wolffer Estate (pictured). Their 28-time award-winning White Horse wines made from hand-harvested grapes is a tasting you need to try.
Where to eat
Long Island's culinary provisions are almost as famous as its wine scene, offering the best of the land and sea. A Mano brings a taste of Tuscany to Mattituck with pasta and wood-oven fired pizza made with local ingredients. Greenport favorite, Brix and Rye is known for high-quality pizza and casual cocktails. The Frisky Oyster, owned by CIA Graduates Robby and Shannon Beaver, serves up the region's signature delicacy. After adventuring wondrous farmland, experience it for yourself at Noah's, creating delicious farm-to-table cuisine.
Where to stay
Photo courtesy of Sannino B&B
Spend the day exploring Long Island's wine regions and the evening unwinding at relaxing lodging options. The historic North Fork Table & Inn has four lovely boutique rooms on its second floor and a lavish restaurant below. Get the full vineyard experience when you stay over at Sannino Vineyard B&B (pictured) in Cutchogue. Watch the sunrise over the sprawling fields in a room at Jamesport Vineyard.
How to get around
Cruise through Long Island in style in a limo or bus with North Fork Wine Tours where you'll spend the day exploring wineries with an experienced tour guide and driver. For a variety of East End tours including the North Fork and the Hamptons, check out East End Wine Tasting Tours.
Things to do in the area
With so much to do on Long Island, don't forget to explore other exciting attractions. For a fin-tastic experience, head to the Long Island Aquarium, home to a 120,000-gallon shark tank.  Plan a beach day on the peaceful shoreline of Orient Beach State Park. If you go to the tip you can see Plum Island in the distance, which has been the subject of many urban legends. Frolic through one of the country's largest lavender fields at Lavender by the Bay. Visit the largest whaling fleet in New York at Sag Harbor Whaling & Historical Museum.
Credit: @hvdrones on Instagram
Nestled along the west side of the rolling Shawangunk Mountains is one of America's oldest winemaking and grape-growing regions. The Hudson River Wine Region isn't only home to award-winning wines and stunning views, but it's also one of the only wine regions in the country to survive Prohibition. Throughout the area, you'll find delectable wines made with American, French-American, and European grape varieties that prosper in the climate and soil.
Where to sip
Follow along the 80-mile wine trail that'll take you through the Shawangunk Mountains, Hudson River, and 13 diverse and historic wineries. 180 years of wine history awaits at America's oldest winery, Brotherhood. The establishment has been open since 1839 and houses some of the largest underground cellars in the country; be sure to take a tour! Located in lush green hills overlooking the Hudson River Valley lies America's oldest vineyard, Benmarl Vineyards and Winery. Sip on hand-crafted wines like estate-grown Seyval Blanc and Cabernet Franc that perfectly capture the essence of the Hudson Valley. The Hudson Valley Wine Tasting Passport ($141.11) offers a more exclusive wine experience with one free wine tasting flight at each participating winery, plus other perks.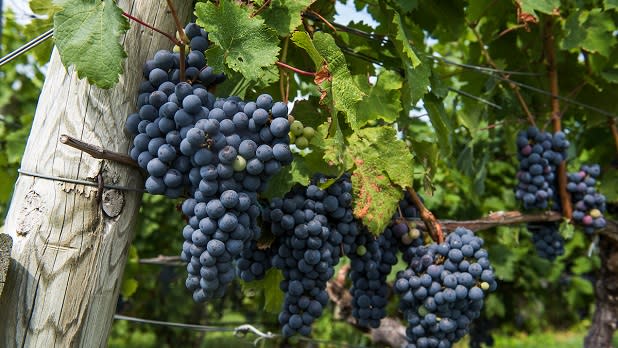 Take in the rustic and rural countryside of eastern Dutchess County as you follow a trail that'll lead you through scenic vineyards, orchards, farms, lakes, and streams. Along the trail is Millbrook Vineyards & Winery (pictured), named "the Hudson Valley's flagship winery" by the New York Times, the luxurious and tranquil Milea Estate Vineyard with wine made from six grape varieties, and Clinton Vineyards (reopening spring 2024), whose picturesque landscape was modeled after wineries in France.
Travel through the mountainous views of the Hudson Valley and the Berkshires as you experience a premiere beverage trail with hand-crafted wine, cider, spirits, and more! On the path, is Hudson Valley Wine & Spirits Competition Gold Medalist, Clermont Vineyards, which'll dazzle you with panoramic views of the Catskill Mountains and fine wine made with grapes grown right on the property. 
Where to eat
Choose from a wine list featuring favorites from all over New York State including the Finger Lakes and Hudson Valley when you pair your meal with a glass of wine at the American Bounty, one of the Culinary Institute of America's six student-run restaurants and cafes. In addition to wine, Magnanini Winery (pictured) serves up delicious meals family-style, and hosts pasta nights on Fridays and brunches on Sunday mornings. If you're feeling fancy stop by Wm. Farmer and Sons in Hudson for new American cuisine and a luxurious atmosphere.
Where to stay
Get a taste of Hudson Valley living at the Inn at the Ridge with four rooms to choose from and CIA graduate-made breakfasts on the weekends. Check in at the newly redesigned Vanderbilt Lakeside Bar Room & Guesthouse in Hudson with a chef-driven modern American food menu. Stay at the warm and welcoming Beekman Arms and Delamater Inn (pictured), designed by one of America's first architects.
How to get around
Cruise through the Hudson Valley on a luxury wine tour in a limo or town car with A Hudson Valley Limousine. The Little Wine Bus will "take you to the vino" on a fun and educational excursion with departures from Midtown Manhattan to all over the Hudson Valley region, year-round.
Things to do in the area
In nearby New Paltz, you'll find the Historic Huguenot Street, with homes dating back over 300 years. Some of the region's most impressive outdoor experiences can be found at the Mohonk Preserve. Witness the rolling waters of the Hudson River first-hand on the former railroad bridge, Walkway Over the Hudson. Experience 300,000 square feet of breathtaking art at Dia: Beacon. Admire the work of Frederic Edwin Church set amidst views of the Catskill Mountains at the Olana State Historic Site (pictured).
Outside of California, Lake Erie Wine Country in the Chautauqua-Allegheny region is the state's largest grape-growing region, with some 20,000 acres of vineyards! While most of its grapes are of the Concord variety and primarily used in grape juice, their fine wines are crafted from French-American and European varieties. Don't leave without sampling the region's famous Ice Wine, a sweet dessert wine made from grapes that have been frozen on the vine.
Where to sip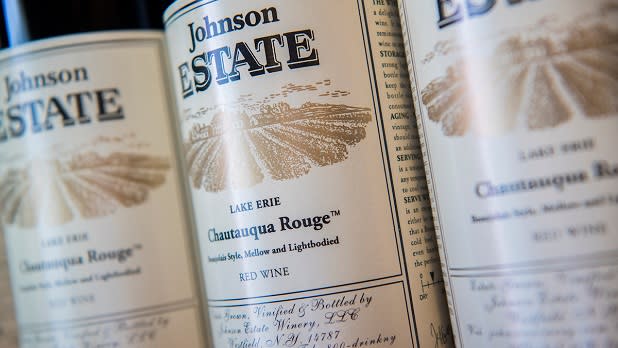 Sip and swirl authentic, hand-crafted wines on your 53-mile journey along the shoreline of scenic Lake Erie. You can't visit this wine region without tasting its famous Ice Wine and 21 Brix Winery is the place to do it! The winery features a beautiful tasting room surrounded by 250-acres of sprawling vineyards featuring 17 varieties of grapes. "Great vines make great wines" at family-owned Liberty Vineyards & Winery, home to countless award-winning wines. Be sure to stop over at New York's oldest estate winery, Johnson Estate Winery in Westfield, growing 14 varieties of grapes across 115 sprawling acres.
Where to eat
Traditional dining meets modern flavors at Grace and Abes Brew Pub and Eatery known for crispy wood-fired pizza and craft beer. Overlook Chautauqua Lake at Webb's Captain's Table Restaurant with fresh seafood and locally-sourced seasonal specials. For a quick bite to eat, stop at Jack's Barcelona Drive In and enjoy hearty sandwiches and burgers at indoor or outdoor seating.
Where to stay
Stay at the number one rated Chautauqua County Bed and Breakfast on Tripadvisor.com, Barcelona Lakeside B&B. It's situated in the heart of Lake Erie Wine Country and open year-round. Soak up beautiful views of Chautauqua Lake at The Chautauqua Harbor Hotel (pictured) with 135 deluxe guest rooms and suites. Enjoy an elegant and historic B&B  experience at Great Tree Inn B&B found in a renovated 1820 farmhouse. 
How to get around
Get the group together for a wine tour with Chautauqua Limousine Service, accommodating up to 56 people. Locale Wine Tours will provide an educational wine tour experience for you and 11 of your friends.
Things to do in the area
Photo courtesy National Comedy Center
While you're in the area be sure to stop at some of Chautauqua-Allegheny's most prized attractions! Have a laugh at the National Comedy Center and explore more than 50 immersive and interactive exhibits. Hike Panama Rocks' (open May through October) magical natural landscape boasting 15 acres of the Paleozoic ocean floor and 60-foot-high rocks. Meander through the 1818 federal-style mansion at the McClurg Museum. Finish out your wine exploration experience with a trip to the Grape Discovery Center and learn about the region's 150 year grape-growing history.
Surrounded by the Adirondack mountains, Taconics, and Catskills, the Upper Hudson wine region is one of the newest American Viticultural Areas in New York State. With an ever-changing climate that sports both beautiful snowy winters and sunshine-filled summers, cold climate grapes thrive thanks to the persistent spirit of local wine-makers. You'll be able to taste the hard work and dedication that goes into each glass.
Where to sip
Credit: @adkwinery on Instagram
Get a taste of the Adirondacks in every sip as you relax in the beautiful outdoor seating complete with fire pits at Adirondack Winery's Queensbury location. Taste premium hand-crafted, award-winning wines on seven acres of Marquette, La Crescent, and Petite Pearl grapes at Fossil Stone Farms Vineyard (open spring through fall). Bask in the easy-going atmosphere at Saratoga Winery with 15 hand-crafted wines, and delicious wood-fired pizza.
Where to eat
Capital-Saratoga cuisine is definitely one you don't want to pass up. Conveniently found at Saratoga Winery & Tasting Room is a full menu of smaller fare, perfect to pair with a glass of wine, including salads, sandwiches, pizzas, and flourless chocolate lava cake on Thursdays and Fridays. Delight in locally-sourced comfort food at Comfort Kitchen on Saratoga Springs' famous main street, Broadway. Choose from tacos, salads, fish and chips, and more, all made from scratch at Druthers Brewing Company.
Where to stay
Photo courtesy of The Queensbury Hotel
Travel back in time to a hotel steeped in Victorian charm at the Inn at Saratoga. Choose from five historic guest rooms at Saratoga Farmstead B&B and delight in a locally-sourced farm-to-table breakfast in the morning. Enjoy the best of both worlds at the Queensbury Hotel in Glens Falls, conveniently located between Saratoga Springs and Lake George.
How to get around 
Take a group of up to 14 on a journey around the Upper Hudson Wine Region with Premier Plus Travel & Tours.
Things to do in the area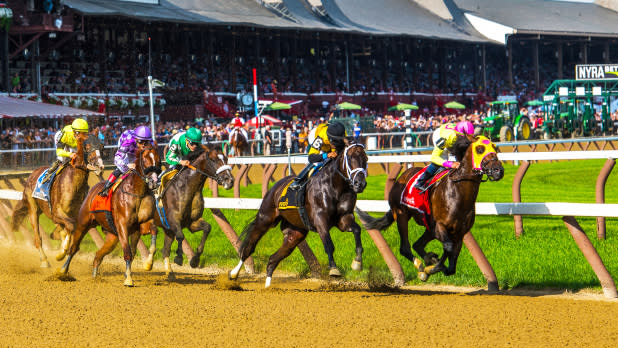 Explore the 2,379 acres of Saratoga Spa State Park containing the Gideon Putnam Resort Hotel & Spa, Saratoga Performing Arts Center, Saratoga Automobile Museum, and more. Float through rivers and swing through trees on a guided trip with Adirondack Adventure Center (open seasonally). Witness historic races like the Travers Stakes at one of the world's oldest sport venues, the Saratoga Race Course.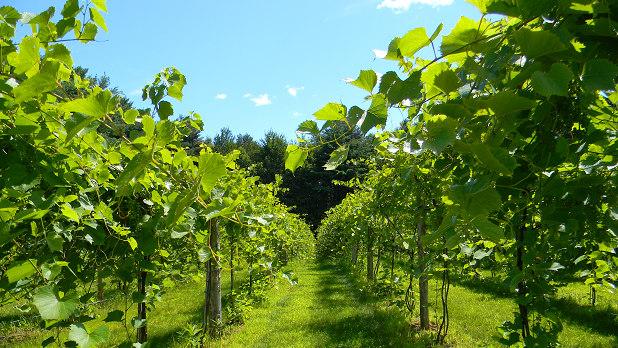 Journey along the border of New York State and Vermont with scenic views of the Adirondack Coast as you discover all the Champlain Valley Wine Region has to offer. Enjoy lively wineries scattered along the Northway between Albany and Canada, that are known for incorporating cold-hardy "Minnesota" grape varieties.
Where to sip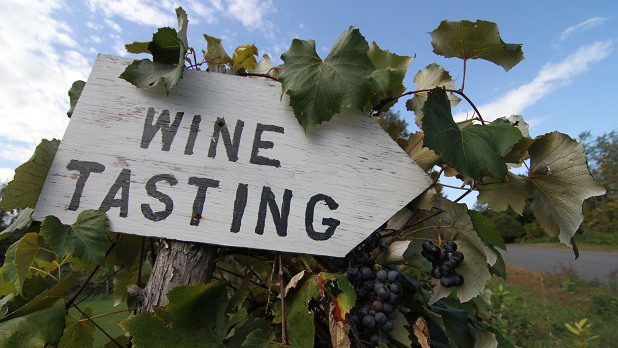 Travel down the scenic Adirondack Coast and sample the finest wines from cold weather grapes found throughout the region. Admire breathtaking one-of-a-kind views of Lake Champlain, Schuyler Island, and green mountains from the back patio of Highlands Vineyard (open May through October) while you try their newly-grown Petite Pearl wine. Surround yourself with over 5,600 vines and unique views of the Adirondack Mountains while you sip at Four Maples Vineyard.
Where to eat
Explore the flavors of North Country at Anthony's Restaurant and Bistro in Plattsburgh found in a 19th century farmhouse. GiGi's on the River serves up traditional American cuisine alongside the Ausable River. 1 Up Arcade and Pub provides a unique and fun experience for everyone with arcade games, brews, and delicious bar bites.
Where to stay
Admire Valcour Inn and Boathouse's nine-acre historic estate in Peru, NY with breathtaking views of Valcour Island and Vermont's green mountains in the distance. The centrally-located Best Western Plus Plattsburgh is also a great option near the area's most popular attractions. 
How to get around
Leprechaun Lines offers coaches, shuttles, and charter buses for wine tours to transport you on a journey throughout the region.
Things to do in the area

Explore one of the oldest attractions in North America, Ausable Chasm, also known as the "Grand Canyon of the Adirondacks." Uncover art history at Plattsburgh State Art Museum with more than 10,000 works. Explore the 22-acre High Falls Gorge with four spectacular waterfalls. Make a stop at Bluff Point Lighthouse, the only lighthouse on Lake Champlain listed on the National Register of Historic places.
Photo courtesy Arrowhead Spring Vineyards for Niagara Wine Trail USA
One of the warmest wine regions in New York State, the Niagara Escarpment Region's close proximity to the Great Lakes and the Escarpment itself creates a trap for warm air currents from Lake Ontario, making it an ideal climate for growing grapes. Not to mention, its sweeping vineyards, farmland, and landscape along the shoreline of Lake Ontario are perfect to enjoy with a glass of wine. 
Where to sip
Weave through three of Greater Niagara's counties on a 60-mile trail scattered with wineries full of rich history and beautiful landscapes. Vizcarra Vineyards at Becker Farms in Gasport offers 340 acres full of kid-friendly activities for the little ones and tours and tastings of their signature modern fruit infused wines for the adults. Sample award-winning wines paired with gourmet chocolate in the beautiful tasting room or outside surrounded by orchards on the Black Willow Winery's 43-acre property.
Where to eat
Credit: @_lionelm on Instagram
The Greater Niagara area is full of tasty cuisine to include on your wine explorations. Stop by the famous home of the original Buffalo wing, Anchor Bar. Grab a bite at Griffon Gastropub in Niagara Falls with classic bar eats and extensive vegetarian and beer menus. Billy Club in Buffalo serves New American fare. Lake Effect Artisan Ice Cream in Lockport and Buffalo creates unique small-batch artisan frozen creations. 
Where to stay
Stay right on the vineyard at the Cabins at Becker Farms (pictured) on a Press Vineyard Retreat in one of their cozy cabins. At the Red Coach Inn, you'll be close to all the action in the area including the famed Niagara Falls. Quiet surroundings and warm hospitality can be found at Lockport Inn and Suites.
How to get around
Check out Giorgio's Limousine Service for a fun wine tour experience for up to 56 people.
Things to do in the area 
A trip to the Greater Niagara region isn't complete without visiting the magnificent Niagara Falls State Park! Artpark in Lewiston is also a great stop for outdoor experiences, featuring an amphitheater and public interactive art exhibits. Stroll Buffalo's historic and lively Canalside along the dazzling waterfront. Get to know Buffalo and Niagara at the Buffalo History Museum with an extensive collection of artifacts, manuscripts, books and photographs.
---
Share New York State adventures with us on TikTok, Instagram and Twitter with #ILoveNY and #iSpyNY, and tag us on Facebook!