With the holidays fast approaching, now is the time to remind your friends and loved ones of their favorite New York State attractions and get them excited about their future travels throughout the state. These unique New York State gift ideas, all of which can be purchased online, are sure to bring back great memories of New York and brighten the day of a special person in your life. 
Originally Published 10/20/2022


Credit: Albany Brewing Company, Thomas Bonar, Lithographer, New York, NY, Color lithographer, ht.21 1/2″ x w.27 1/2″, Albany Institute of History & Art, bequest of Ledyard Cogswell, Jr., 1954.59.12
Beginning with the first Dutch settlers, the City of Albany was a key player in the worldwide brewing industry. Considered one of the largest brewing hubs in the country pre-Prohibition, Albany and the entire Capital-Saratoga region are leading today's craft brewing resurgence. Get the perfect gift for the history and beer lover in your life with a fine art print of a vintage Albany Brewing Company advertisement from the Albany Institute of History and Art. Albany; $44.95.
A Gift Certificate for Fly Fishing Gear from Esopus Creel (Catskills)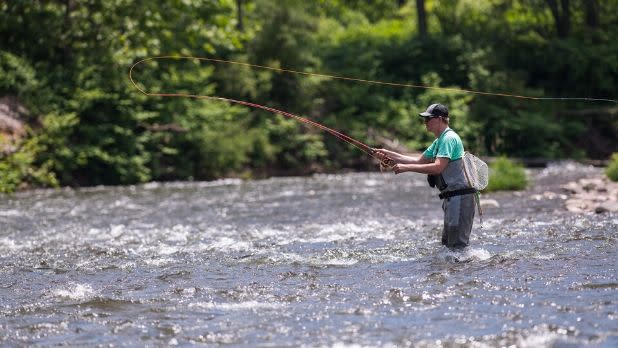 Outstanding fly fishing is one of the Catskills' greatest claims to fame. Considered the birthplace of American dry fly fishing, its endless supply of lakes, reservoirs, ponds, rivers, streams, and creeks make it the perfect place to cast a line. Send some love to the outdoors enthusiast in your life with a gift certificate for fly fishing gear, including fly reels, equipment bags, apparel, and more, from Esopus Creel. Phoenicia; gift certificates are available in $25, $50, $75, $100, and $200 amounts.
A Gift Card from Holiday Valley or a Gift From National Comedy Center's New Comedy Shop (Chautauqua-Allegheny)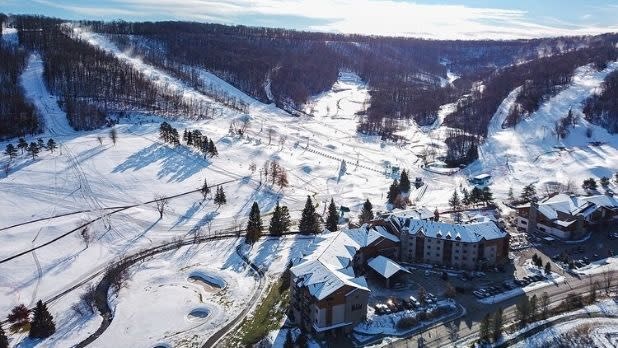 This holiday season, help someone create a future New York State adventure by sending a gift card from Holiday Valley, the all-season resort known for some of the best skiing in the Northeast, world-class golf, a thrilling mountain coaster ride, and more. Purchase gift cards in amounts ranging from $25 to $500. The gift cards are available in any increments for any product or service offered, including ski lift tickets, learn to ski or snowboard packages, snowshoe rentals and tours, cross-country ski rentals, Mountain Shop merchandise (outerwear, goggles, hats, to name a few), and winter lodging and packages. Summer gift ideas include golf, golf lessons, golf shop merchandise, and more. Or, tickle someone's funny bone with the gift of laughter from the National Comedy Center. The Comedy Shop, the Center's hub for comedy-themed products and gifts, celebrates the legacies of comedy's most iconic personalities and brands with a broad array of gifts and exclusive products that will bring smiles and laughter to anyone who loves to laugh. Holiday Valley, Ellicottville; various prices. National Comedy Center, Jamestown; various prices.
A Glass Ornament You've Designed From the Corning Museum of Glass (Finger Lakes)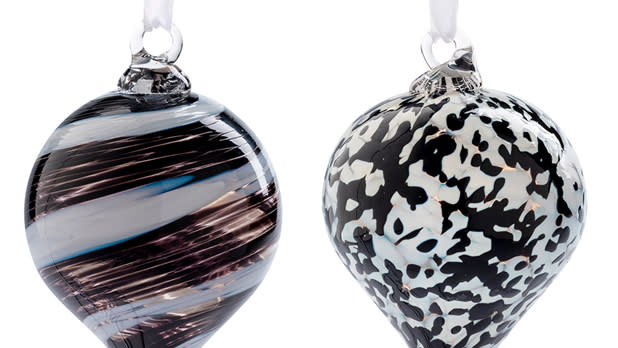 Credit: Courtesy of Corning Museum of Glass
In addition to featuring a wide range of holiday ornaments and other amazing handmade glass gifts, the Corning Museum of Glass allows you to create a unique ornament of your own design to send as a gift to a special person to remind them of Corning's rich glassmaking history and the world-class museum that honors and celebrates it. Choose from round and teardrop ornaments made at the museum's studio and add your own base color, accent colors, and pattern! Corning; Make Your Own Glass ornaments priced at $34.
A Perfect Gift for Animal Lovers From Aquarium of Niagara  (Greater Niagara)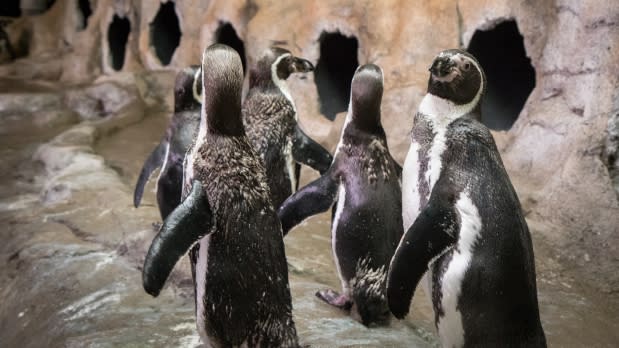 Honor the animal lover in your life with the gift of becoming an Aquaparent from Aquarium of Niagara, which is dedicated to the education and conservation of aquatic life! Your gift recipient will be able to "adopt" one of the seals, sea lions, or Humboldt penguins that call the Aquarium home and will receive, at minimum, a certificate of adoption, a 4″x6″ color picture of the animal they chose, and a species ID card. Niagara Falls, three adoption levels from $30-$95.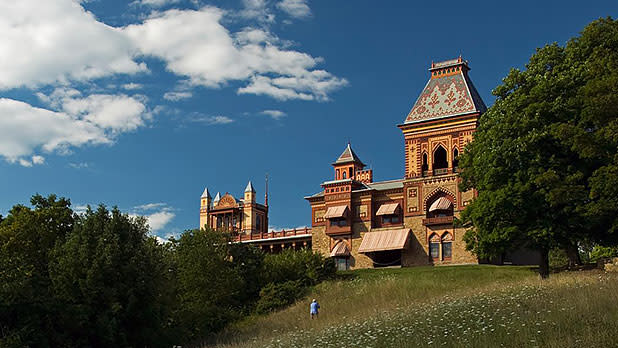 Is there an art aficionado in your life? Send them some art from the heart with a print of renowned American painter Frederic Edwin Church's El Khasné, Petra, an 1874 oil painting that is the most important large painting in Church's Greenport home, Olana. In 1875, Church made El Khasné a gift to his wife, Isabel, and installed it over the fireplace in their sitting room. The painting depicts the Al-Khazneh temple in the historical city of Petra, Jordan, which Church visited during an extended trip to the Middle East and Europe. Hudson; 11″X14″ prints priced at $14.95; 8″X10″ at $9.95.
A Gift Certificate That Gives Back From Gurney's (Long Island)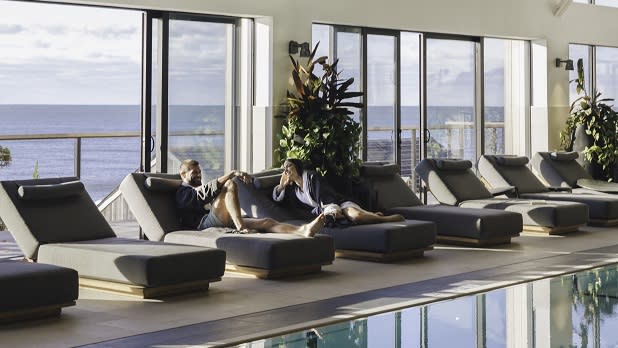 Send your special person to the only luxury hotel in the Hamptons that's located right on the beach with a gift certificate to Gurney's Montauk Resort and Seawater Spa, featuring 146 rooms, suites, and beachfront cottages, each with panoramic ocean views, and five unique dining and drinking venues. An extra perk of a future stay: Gurney's renowned one-of-a-kind, 30,000-square-foot Seawater Spa unveiled new features in 2022, including co-ed relaxation areas, an expanded fitness center, and eucalyptus oil-infused steam rooms. Montauk; gift cards are priced in $100 increments.
Your Very Own Empire State Building (New York City)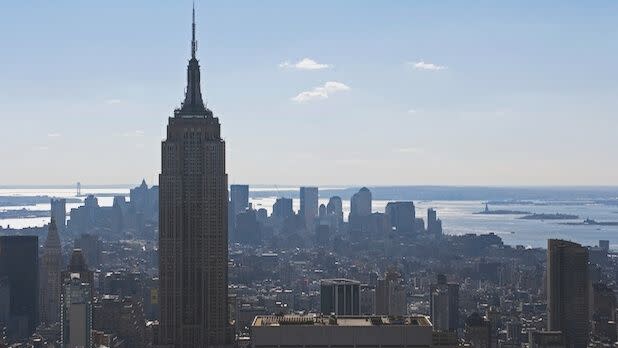 The Empire State Building has captured the hearts and imaginations of people worldwide since its opening in 1931. Whether you're shopping for a fan of history, architecture, or even movies, the Empire State Building Official Store has beautifully detailed replicas of the building that make the perfect gift. You can also choose from many other items, from mugs to snow globes, that showcase this 102-story Art Deco wonder. New York City; 12″ Empire State Building replica with wood base & detachable King Kong priced at $49.99.
A Chocolate Oswego Lighthouse (Thousand Islands-Seaway)


Credit: Amy Lear, Man in the Moon Candies
In days past, lighthouses played an indispensable role in helping ship captains safely navigate to their destinations. Today, the Thousand Island-Seaway's rich legacy of historic lighthouses are among its most visited travel destinations. Send a tasty reminder of these beloved waterside landmarks to someone special this year by gifting a delicious Oswego Lighthouse recreated in chocolate and surrounded by edible chocolate rocks, from Man in the Moon Candies. Oswego; $19.95.
And Some Camping Cheer (Various Regions)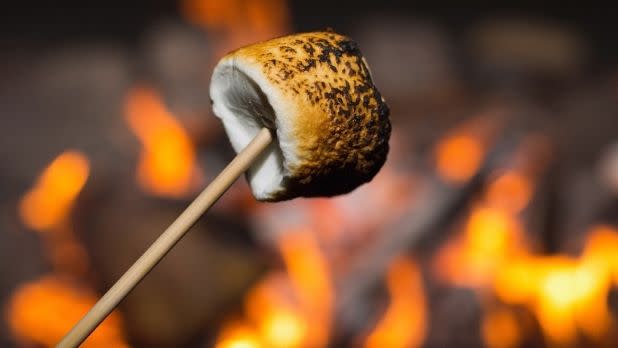 The New York State Department of Environmental Conservation is making it easy to bring happiness to the campground-loving person in your life with gift cards and electronic, print-it-yourself gift certificates. They're good for stays and services at all DEC campgrounds and are available online. Statewide, prices vary; an account must be created to order them.
---
Share New York State adventures with us on TikTok, Instagram Twitter with #ILoveNY and #iSpyNY, and tag us on Facebook!