It's easy to think of New York City as a concrete jungle, but this region of New York State has many green spaces across its five boroughs that become embellished with colorful fall plumage. The same can be said for Long Island. While its beaches make this a hot summer getaway destination, Long Island gets its fair share of fall foliage across its parks, arboretums, and other public spots. Here is your guide for where to wander amid the leaves and trees across New York City and Long Island. 
Masks are encouraged, but optional in most settings per New York State guidelines. Individual businesses or attractions may require mask wearing. Call ahead and check websites and social media to make sure attractions and amenities are open and available.
Originally published 11/01/2022
JUMP TO: Manhattan | The Bronx | Brooklyn | Queens | Staten Island | Nassau County | Suffolk County
NEW YORK CITY
Manhattan
New York City's most famous park has roughly 18,000 trees that turn yellow, orange, and red across its various landscapes. There are a number of places throughout Central Park to take in their beauty including The Ramble, Bow Bridge (pictured), East Meadow, Conservatory Garden, The Mall, a pedestrian pathway, and the Bethesda Terrace, with its iconic Bethesda Fountain. 


Credit: @annab62 on Instagram
This park within Manhattan's northernmost neighborhood of Inwood puts a natural spin on the term "Old New York." It contains NYC's last remaining natural salt marsh, and also is adorned with a forest lush with mature red oaks and tulip trees. Much of Inwood Hill Park remains untouched, as shifting glaciers created still standing rock formations and a glacial pothole. For the best fall foliage views, take the Blue Trail which leads up to the park's overlook, affording gorgeous vistas of the Hudson River and the awe-inspiring Palisades.


Credit: Anna Pakman
As one of Manhattan's highest points, Fort Tryon Park towers over the Hudson River offering unbeatable views of the 300-foot cliffs of the Palisades. Take in the scenic vista from a bench in Linden Terrace or soak in the colors as you stroll along the pathways of the enchanting Heather Garden, NYC's largest public garden which is hosting an autumn highlights tour on November 5. You can also take in fall foliage while working up a sweat during the park's free "Forest Fitness" exercise classes. Fort Tryon Park is also home to The Cloisters, a branch of the Metropolitan Museum of Art, an indoor-outdoor museum dedicated exclusively to Medieval art and architecture.


Credit: @rtanphoto on Instagram
At the cost of a subway or bus ride, catch a lift on the urban tramway to Roosevelt Island to take in overhead fall foliage views while traveling 240 feet above the East River. Franklin D. Roosevelt Four Freedoms Park, on the southern tip of the island, is surrounded with Little Leaf Linden trees that create a dramatic corridor to the 7,700-ton granite memorial of the former president as they transform into a rich golden yellow in the fall.
The Bronx


Credit: @el_fab on Instagram
Amid the botanical garden's 250 acres, there are many gorgeous fall foliage photo ops. A top spot is within the Thain Family Forest, New York's largest old-growth original wooded landscape, so incredible that its trees go back as far as the Revolutionary War. This forest is also the scene for NYBG's "Fall Forest Weekends" (November 4-5 and 12-13), that will offer Native American Heritage Month activities, tours, educational demonstrations, and more. The Perennial Garden gets speckled with orange, red, purple and yellow, and the Native Plant Garden turns shades of gold. NYBG's prestigious maple collection, with Japanese maple cultivars and other towering specimens, provides quite the picturesque backdrop. Stroll along the Marjorie G. Rosen Seasonal Walk, where asters bloom alongside waving grasses turning red and russet competing for your camera's attention.


Credit: @wavehill on Instagram
This 28-acre public garden and estate overlooks the Hudson River and the Palisades in the Bronx's Riverdale neighborhood, providing breathtaking views of the eye-popping fall foliage among these natural wonders. Wave Hill's acreage also puts on a spectacular fall showing with its magnificent trees, shady woodlands, and assortment of gardens featuring late-blooming plants along meandering paths. Along with regular garden and gallery tours, Wave Hill will be hosting Fall Foliage Fest with art making, forest bathing, and special fall foliage walks the weekend of November 3.
NYC's largest public park contains nearly 800 acres of forests and woodlands with Hunter Island, a nature sanctuary, holding the park's largest continuous forest featuring chestnut oaks, hickory, black locust, black cherry, black birch, and tulip trees. Take in the sights along the Kazimiroff Trail, a popular route with two hiking loops. Other park attractions include the Meadow at Orchard Beach, the elegant Greek Revival-style Bartow-Pell Mansion (pictured), two golf courses, and a 13-mile saltwater shoreline embracing Long Island Sound.
The seven hiking trails within New York City's third largest park allow visitors to explore ridges, valleys, forests, wetlands, and scenic lakes. Among them, the two-mile John Muir Trail goes through the Northeast Forest, home to red oak, sweetgum, and tulip trees. This route also encompasses the Croton Woods and its sugar maple and hickory trees, and the hilly Northwest Forest, which is home to stately tulip, oak, and hickory trees.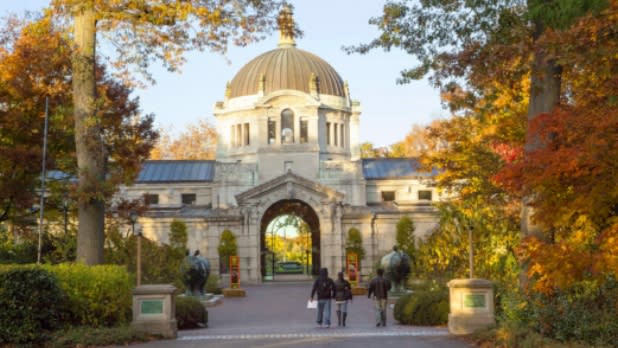 See fall foliage from above on the thrilling Bronx Zoo Treetop Adventure. This aerial ropes course has three experiences to choose from, but each one will get you up close and personal to the changing leaves. Near the zoo's Bronx River entrance, the Mitsubishi Riverwalk is a half-mile public nature trail that will have you coming across 10-foot-high twin waterfalls and interactive exhibits on this freshwater river ecosystem. Neat fact: this forestry area was developed by dams built to source power to mills in the 19th century but has since been restored to its natural splendor.
Brooklyn


Credit: Tagger Yancey IV/NYC & Company
Autumn at the Brooklyn Botanic Garden brings forth changing colors in prime spots, especially amid some of the garden's oldest trees. Within the Japanese Hill-and-Pond Garden, Japanese maples see their leaves turn shades of red and purple. The cutleaf maples will progress from a brilliant yellow to deep reddish orange. Starlike astors are amid the Shakespeare Garden, Water Garden, and Discovery Garden while pumpkins and other squashes adorn the Herb Garden. Delve more into Brooklyn Botanic Garden's fall setting on a garden wide Seasonal Highlights Tour (through November 30).


Credit: Julienne Schaer
With skyline views of Lower Manhattan and the Harbor, Brooklyn Bridge Park makes for a nice autumn afternoon hangout spot. Amid 3,000 trees, the park has various walkways going by six piers and a patchwork of gardens and ecosystems, plus nine lawn areas perfect for picnicking, playing, and relaxing. Squibb Park Bridge and Emily Warren Roebling Plaza are among the best spots for catching fall colors.


Credit: Tagger Yancey IV
The Green-Wood Cemetery is not only the final resting place of Leonard Bernstein, Jean-Michel Basquiat, and other luminaries, but its fall scenery makes for an enchanting oasis to take a leisurely walk. Its landscape has pathways leading around the grounds and is aligned with hills, lakes, outdoor sculptures, and 19th- and 20th-century funerary art. The cemetery is an accredited arboretum, with a vast collection of trees and species; fall game changers encompass maples, oaks, sassafras, and tulip trees. Themed trolley tours and "Birding In Peace" walking tours are scheduled regularly. 


Credit: Getty Images
This 585-acre park contains Brooklyn's only forest, known as the Ravine, which has nearly 150 acres of woodlands and scenic waterways. A favorite park route to see fall foliage is from the peninsula to Lookout Hill. The woodland paths trace through a variety of species, providing some of the park's most scenic lakeside views. Park amenities also include playgrounds and the Prospect Park Zoo, a real treat for the kiddies.


Credit: @jonn8231 on Instagram
Brooklyn's first park is sized at 30 acres, where it's possible to take in loads of fall foliage in a single day. Its collection of fall-turning trees include sugar maples (the State Tree of NY), oaks, and elms, where you'll see bursts of golden yellow and orange. The Prison Ship Martyrs Monument, the park's centerpiece, stands not only as a memorial but is also the public resting place of nearly 12,000 men and women who paid the ultimate sacrifice after being captured by the British following the Battle of Brooklyn. 
Queens


Credit: @mrtomjoad on Instagram
This park has a claim to NYC's tallest and oldest tree – the Alley Pond Giant. That's the name of this 133-foot-tall Tulip tree estimated to be between 350 and 450 years old. Pass by this giant via the park's Tulip Tree Trail then head on over to Oakland Lake, a 15,000-year-old spring-fed glacial kettle pond. Overall, Alley Pond Park's tree selection extends to oaks, white pine, and red maple, with fall red and yellow colors abound. 
As the third largest park in Queens, Forest Park is a beloved spot among walkers, runners, and cyclists venturing along its landscape. It boasts the NYC borough's largest continuous oak forest, whose three marked hiking trails are a nice way for taking in fall colors. Other noteworthy tree species to scout here include the northern red oak, scarlet oak, tulip poplar, shagbark hickory, white oak, and wild black cherry. Overall, you'll find a color scheme usually running from deep red to bright yellow. Other highlights include seven playgrounds, an 18-hole public golf course, and two dog runs. A historic carousel is closed up for the season, but come spring be sure to come back for a ride.
Staten Island
Snug Harbor Cultural Center & Botanical Garden
Once a home for aged and retired sailors, this 83-acre campus has become a beautiful garden center surrounded by 26 historic buildings—and is lovely as the campus comes alive with vibrant fall foliage of red and golden hues. Best color sightings include their New York Chinese Scholar Garden, The Healing Garden, and the RCSF Tuscan Garden. The center is holding fall foliage walks  (November 2 and 4) that will bring you to these spots amid their color peak. 
This gem in the heart of Staten Island is full of color-changing trees ranging from sweetgum and oak to maple, tulip and beech. The Greenbelt is made up of a nearly 3,000-acre park system that can be best experienced during fall via six major trails, ranging from easy, to moderate, to difficult. The Heyerdahl Hill Hike, a three-mile loop, starts at the Greenbelt Nature Center, where you can pick up a map and meet a naturalist. Another popular activity is making your way up the 200-foot tall mound at Paulo's Peak for a truly panoramic view. Within the Greenbelt is Willowbrook Park, which has a pond that features the pretty fall foliage around it. 
LONG ISLAND
Nassau County
Home to three former Gold Coast mansions, the grounds of this preserve provide sweeping views of Long Island Sound. Six marked hiking trails entwine through 216 acres of natural and landscaped areas. Come across diverse habitats of woods, open fields, and a freshwater pond where you may find yourself walking amid a patch of yellow leaves. Youngsters can have some fun on the Woodland Playground situated around majestic trees. Adults can go on a Guided Nature Walk  or forest bathing on select dates. 
Sagamore Hill National Historic Site


Credit: @li_hike on Instagram
While nicknamed "the Summer White House," a fall-timed visit to the former family home of President Theodore Roosevelt is just as nice. Maple trees are bursting in reddish orange hues while other species including ginkgo and walnut burst in shades of yellow, and sycamores become a yellowish-orange. A nature trail is linked from dense forest to the coastline of Cold Spring Harbor, and one of Long Island's few remaining salt marshes, Eel Creek, where the Roosevelts spent much of their days. The Theodore Roosevelt Home is accessible by guided tour only; purchase tickets in advance at recreation.gov. 
Planting Fields Arboretum State Historic Park
This Gold Coast estate in Oyster Bay glistens in fall with 409 acres of greenhouses, rolling lawns, formal gardens, woodland paths, and outstanding plant collections. During fall, the arboretum's dahlias, iris, winterberry, and Japanese maple are in bloom. The park is open every day except December 25. Coe Hall, an English-style country manor, is open for guided tours Wednesday-Sunday.
The beautifully landscaped grounds at this elegant 44-room English manor house have remained largely untouched since its original owners, the Phipps family, lived there. Amid its gardens, ponds, and rolling hills, Old Westbury Gardens experiences fall through the changing of colors not only in trees, such as an American beech planted in 1906, but also in garden flowers such as chrysanthemums.
Suffolk County 
Bayard Cutting Arboretum State Park 
This arboretum in Great River is home to some of the oldest varieties of trees on Long Island. Species include fir, spruce, pine, cypress, hemlock, yew, and other lesser-known conifers. Its place along the Connetquot River on the south shore of Long Island allows for picturesque fall foliage views. Get a different look at nature through the park's Wellness Walks (November 4), which encourage you to slow down and stay present while experiencing the beauty of these natural surroundings. These walks focus on practicing self-reflection while spotting certain elements such as rocks or fallen flower petals.   
Venture out on a fall journey through forests, a tidal estuary, and ponds amid the seven miles of trails at this nature preserve where you'll also come across ecologically rare Dwarf Pines in the Pine Barrens. This wildlife refuge provides a sanctuary to bobcats, owls, falcons, eagles, and other native New York animals that have suffered injuries and can longer live out in the wild. Pop by the nature center to enjoy spectacular views of the Old Ice Pond, and youngsters will have fun engaging with animal exhibits. 
Spend a fall morning exploring the charming Main Street shops in the village of Stony Brook before stepping into this natural oasis filled with 140 acres of fields, forests, and wetlands. Hilltop Meadow is a perfect foliage viewing spot as its five fields are surrounded by woodlands and accented by hedgerows. Venture along the Forest Sanctuary, as it predominantly has oak, hickory, and beech. 
Caleb Smith State Park Preserve
You might find bits of purple, yellow, red, and orange at Caleb Smith amid a variety of habitats, from freshwater wetlands and ponds, to fields and upland woods. Amid its various colored hiking trails, try the short loop trail or challenge yourself on the 2.5 mile Greenbelt Trail that's said to have the most elevation. Children will be enthralled at the Nature Museum, which presents natural history exhibits of wildlife such as a river otter.
Caumsett State Historic Park Preserve 
Caumsett is stunning in that you can do just about any outdoor activity, especially during the fall season. The list includes not only hiking and biking but prime opportunities for bird watching and nature photography and study. Nestled along a peninsula extending into Long Island Sound, Caumsett has many trails and bridle paths, with some for equestrians and others shared by cyclists and hikers. Some are under a mile in length while at most they go up to and over three. Pathways follow over woodlands, meadows, rock shoreline, and salt marshes. 
New York's first "State Park Preserve" is perfect for a scenic fall outing, with over 50 miles of hiking, horseback riding, nature trails, and fishing. You might also see some wildlife, as this is a major sanctuary for game birds, fish, and animals. Situated along the Connetquot River, the park's topography encompasses sandy pine barrens, wetlands, ponds, and woodlands.
On Shelter Island, Mashomack Preserve provides a different approach to fall foliage. Having 11 miles of coastline, this preserve is rich in habitat with over 2,350 acres of interlacing tidal creeks, mature oak woodlands, fields, freshwater marshes, and underwater lands. During autumn, Mashomack is a major migration stopover point for many species of birds including Black duck and Canada goose. 
---
Share New York State adventures with us on TikTok, Instagram and Twitter with #ILoveNY and #iSpyNY, and tag us on Facebook!