From luxurious hotel retreats and engaging museum exhibits to apple orchard UTV tours and restaurant-openings galore, there's always something new to discover in New York State! With amazing foliage decorating the state in bright fall colors and exciting seasonal festivals, attractions, shopping, and events to explore, the fun never ends. Check out some of the state's latest and greatest openings and be sure to add these to your fall to-do list for your next New York adventure. 
JUMP TO: New Places to Stay | New Places to Eat | New Events | New Exhibits | New Attractions | New Places to Shop
Quiet luxury meets gracious hospitality at this quiet country manor in the charming village of Middleburgh. The River Street Social bed and breakfast resides in a grand Victorian home originally built in 1865 with five newly-renovated lavish guest rooms each with their own private bathroom. Conveniently located just 45 minutes from Albany and an hour from Cooperstown, you'll find spacious parlors, a library, porches, and gardens, as well as easy access to fun-filled day trips and hiking trails for all your leaf-peeping adventures.  
Take in the 360-degree mountaintop view at the newly-opened NewVida Preserve in Jay. This 2,000-acre former ski lodge near Whiteface is the ultimate mountain retreat with a wellness center offering yoga, massage therapy, and ayurveda, 35 miles of scenic trails for hiking, climbing, and skiing, and a wonderful arts scene including painting, music, and dance classes. Dig into locally-sourced food at the Bistro or sip a signature cocktail at the Craft Bar. Spend the day exploring all that the preserve has to offer with a day-pass or for an unforgettable experience, book a few nights at the main lodge and take in the architecture alongside one-of-a-kind views.
Follow woodsy paths, discover secluded nooks, frolic through fields of wildflowers, and unlock the ultimate serene wellness retreat on the 230-acre campus of Hemlock Neversink. Found on the historic site of the former New Age Health Spa, this Catskill oasis officially opening on October 13 features 33 warm and inviting guest rooms. You'll find all kinds of opportunities highlighting rest and relaxation like a variety of yoga classes, meditation workshops, a goat sanctuary, nature-based spa, sprawling open fields, and scenic hiking trails.  
Escape to the scenic shores of Oquaga Lake at the charming Chestnut Inn in Deposit. This newly-renovated three-story inn and historic landmark was originally built in 1927 with wood from the nearly-extinct North American chestnut. Enjoy stunning views of the lake from the private beach or hit the water in a canoe, kayak, or paddle board. After you've had some fun, unwind in one of the 17 lovely guest rooms, eight of which overlook the sparkling lake. 
A luxurious hotel retreat awaits among the Catskill Mountains and a stunning stretch of the Hudson River. With a modern industrial design inspired by its roots as a 19th century shipping port and iron foundry, the James Newbury Hotel boasts 46 unique guest rooms each with lush amenities including soaking tubs, Frette linens, marble bathrooms, and floor-to-ceiling windows to take in those one-of-a-kind riverfront views. In terms of dining, enjoy a cocktail in the lobby cafe or outdoor patio and dig into a wood-fired pizza next door at the newly-opened Patrick Henry's waterfront tavern. Soon to be found on the roof is the Day Line terrace with a seafood-inspired menu and birds eye view of the river and grounds. 
The Hudson Valley's craft beverage scene just got even more exciting! The first ever Japan-led sake brewery on the East Coast has opened right in Hyde Park. In partnership with the Culinary Institute of America, premium sake maker Dassai launched their new US brand Dassai Blue and now it's open to the public. The 55,000 square foot, state-of-the-art brewery and tasting room offers tours and tastings of Dassai sake. Be sure to stop by the shop on your way out and grab some superb sake to take home.
The West Side Bazaar, a local business incubator and hub for Buffalo's immigrant community, is moving into an expansive new space overlooking the Niagara River. Stop by for a taste of delicious cuisine from around the world with culinary delights from  Myanmar, Sudan, Ethiopia, the Philippines, and Yemen, and peruse boutiques with handmade jewelry, clothes, and other accessories. Join the celebration during the grand opening week October 31-November 4. Be sure to also pay a visit to the Downtown Bazaar on Main Street for traditional Mexican food, vegan Ethiopian cuisine, Burmese and Thai street food, and more!
Donuts or beer? The good news is at Owego Donut & Beer Company you don't have to choose! This a-glaze-ing Owego business is opening November 15, crafting an experience unlike any other and presenting the area's first self-pour beer wall. Taps are priced by the ounce and you control how much or how little to fill your glass which means you can sample smaller amounts before committing to a whole pint. Not to mention you can pair your fresh pour with a delicious donut.    
Good wine and good vibes are a guarantee at Syracuse's first wine bar, Nobody's. This classy yet casual new addition to Armory Square might be called Nobody's, but it serves up unique, hard-to-find wines for everybody and at a fraction of a price. Stop in for a wide variety of wines from around the world including Italy, France, Napa Valley, and of course the Finger Lakes, as well as a menu of lighter provisions like charcuterie. 
Paper and Pencil (Adirondacks)
The highly-anticipated upscale farm-to-table restaurant Paper and Pencil is now open along Ticonderoga's historic LaChute waterfront. Take in the atmosphere of the former 1820s furniture factory, featuring an industrial chic interior that builds on some of the original structures. Not only is the architecture breathtaking, but the menu is also packed with tasty locally-sourced entrees like honey garlic salmon or pork chops grilled with a peach bourbon glaze.
Does it get any better than fresh baked goods, a warm coffee, and cuddles from adorable furry friends? Stop by the newly-opened Pretty Paw Lounge in Rotterdam, the region's first cat cafe. The cafe works in conjunction with local shelters which means that all your new cuddly kitty buddies are up for adoption. You might even meet your new forever furry friend. 30-minute cat visit is $15.00 per person and 60-minute cat visit is $20.00 per person.
A new stylish restaurant and cocktail bar is now open in North Greenbush. Have a seat in the cozy yet elegant environment at the Roosevelt Room owned by a father and son duo. The restaurant features an eclectic and vibrant menu of small plates, deliciously-bold entrees, a thoughtfully curated wine list, and signature cocktails. 
Explore Cortland's quirky, curious, and sometimes spooky past with a month-long celebration of Cortland Curiosities: A Strange & Forgotten History Trail, featuring fascinatingly-haunted stops and larger-than-life historical characters. Explore the history behind Cortland County's first murderess on the Boneyards & Burial Grounds trail, face your fears on the Legends & Lore trail, visit the site of the poltergeist of Virgil Creek, and more. If you're still curious for Cortland County, check out other events happening throughout the month like a paranormal investigation at the Glen Haven (October 16), Cortland's Curious Market on Friday the 13th, and Cortland's Curious Cabinet: Exploring our Curious & Paranormal Past (October 26), where you can mingle with local historians, shop oddities and art, and discover what your future holds, all while sipping on the signature trail cocktail. Various dates throughout October.
Oh my gourd! There's a new nighttime Halloween family event at the Bronx Zoo. Follow along the illuminated trail through the zoo filled with more than 5,000 glowing jack o' lanterns carved into the shapes of your favorite animals. Watch expert pumpkin carvers as they create amazing animal displays, learn about animal behavior after dark, play family-friendly outdoor games, and be sure to grab a treat from a variety of local food trucks. Thursdays – Sundays through October 29.
Calling all oyster enthusiasts! Long Island is holding its first annual Oyster Week from October 10 – 15. Try some of the best oysters from restaurants and growers all over the region. Throughout the week, you'll find samplers, discounts, limited edition specials, and Oyster-themed entrees all the way from Garden City out to Orient Point. 
Dating back nearly 400 years, Schenectady's historically-haunted Stockade District has a ghostly tale to tell. Discover the stories of the city on a one-mile guided tour through streets and sites of interest like Cucumber Alley, 15 and 4 Washington Ave, and 19 Front Street which all have their own eerie fable to share. Pick from two tours which have been featured on the Travel Channel's paranormal show "A Haunting." Tours are $12 per person and offered through October.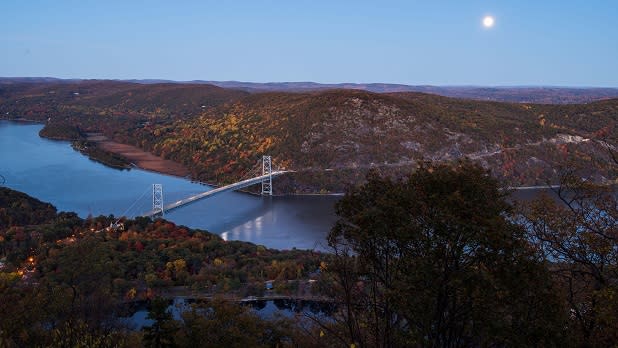 Revel in classic Bavarian fun alongside stunning views of Bear Mountain at one of the state's largest free Oktoberfests! There are four weekends packed with all kinds of fall celebration like live volksmusic from Bavarski, The Adlers, and the 18-time Grammy winning Jimmy Sturr Orchestra, classic festival games, local vendors, and more. With kids activities like a bounce castle, air slides, pony rides, and fun games like bean bag toss, the little ones are sure to have a day they'll remember. September 30- October 1, October 7-9, October 14-15, October 21-22. Admission is free. Parking is $12 online and $15 at the gate.
On the second Friday of every month, the Burchfield Penney will stay open late and feature all kinds of exciting activities as part of their M&T Second Fridays. Experience the best of the Burchfield Penney at new exhibition openings, art-making for all ages, special programs, exclusive screenings, a happy hour, live music, and more. Did we mention admission is free! On November 4, get the whole family together for Hyatt's All Things Creative Family Day. Let the kids create their own art masterpieces, explore and admire galleries, and learn about Haudenosaunee basketry, tumplines, and cradleboards at workshops led by cultural arts educators from the Mohawk and Seneca Nations. All Things Creative Family Day session one is at 10am and session two is at 1pm. Admission is $5 per family.
Get ready to rock out in Geneseo! The inaugural Hoochenanny Whiskey Festival is coming to town October 20-21, 2023, bringing together all things New York craftsmanship with exclusive tastings, specialty cocktails, craft beverages, and delicious food from restaurants, distilleries, wineries, and breweries throughout the state. There's also a harvest market and of course, amazing music. Whether you're a foodie, festival-goer, or just looking for a great time you won't want to miss out on this festival's impressive lineup that includes headliner The Struts as well as Tommy Brunett's All-Star Cavalcade of Scoundrels, Los Straitjackets, and more. October 20 – 21. One-day general admission tickets start at $39.99.
After nearly 120 years, Albany is resurrecting its historic, enchanted, and slightly spooky Halloween festival. Celebrations will be held throughout the month of October, including a diverse lineup of talent from all around the city like public art, community events, dramatic tours, historical exhibitions, and the first ever Halloween House Ball. Some other frightening events to get you into the spirit of the season include an after dark City Seance Ghost Tour, the New York State Capitol Hauntings Tours, or the Eerie Albany Historic Ghost Tours where you might even see the ghostly presence that resides at the Olde English Pub. Various dates throughout October.
Calling all foodies! Take a culinary adventure through Syracuse, also known as the Salt City, one bite at a time on a three-mile walking food tour. As you stroll through Downtown Syracuse's diverse food scene, led by your fearless foodie tour guide, you'll get to sample everything from American barbecue to handmade chocolates to famous local favorites, all while learning fun facts of the area. Tours are offered Saturdays at 12pm. Tickets are $70.20 per person. 
A carnival unlike any other is coming to the Schaghticoke Fairgrounds this October. Pay a visit to Spooky Island and get ready to face your fears as you venture through three different scare zones and two haunted houses all run by industry professionals. Recover from your haunting journey with a bite from food and drink vendors, or if you're still looking for a good scare stroll through the horror vendor hall. Thursday-Sunday through October 29. Tickets start at $28.75.
Take a glimpse into the world of award-winning American director Spike Lee at the new Spike Lee: Creative Sources exhibit at the Brooklyn Museum. Explore items from Lee's personal collection that tells the story of his visionary career. The multi-room immersive installation will take you through the inspiration behind his creativity, work, and life from his hometown of Brooklyn to cinema history and photography to Black history. You'll even get a glimpse of the magnificent purple suit he wore when accepting his first Oscar in 2019. Exhibit is open from October 7, 2023 – February 4, 2024. General admission ranges $10-$25.
The renowned Buffalo History Museum is unveiling new and exciting exhibits this fall. Now through January 14, 2024, take in the work of stained-glass artists at the On the Shoulders of Giants: Innovation in American Stained Glass exhibit developed by the Stained Glass Association of American. Starting October 20, discover the story behind John Mix Stanley's nine-by-five foot Trial of the Red Jacket oil painting completed in 1868. The story of Buffalo's Pan American Exposition returns to the Museum on November 17 at The Spirit of the City exhibit, featuring a variety of Pan-Am artifacts, paintings, and photographs. Admission is pay what you wish (recommended admission is $10).
New Fall Exhibitions at the Fenimore Art Museum (Central New York)
The exceptional Fenimore Art Museum is opening three new exhibits for the fall season. The museum represents North America's diverse and rich cultural heritage and houses one of the country's most comprehensive and exceptional collections of fine art, American folk art, and the Thaw Collection of American Indian Art. Now through December 31, you can celebrate the art of Arnold Lobel, the author and illustrator of some of the most beloved children's books including everyone's favorite amphibians, Frog and Toad at the Frog and Toad & Other Friends: The World of Arnold Lobel exhibit. Take in the work of Adrianne Lobel, daughter of Arnold Lobel, and witness an organized and composed display of chaos of nature at Nature Composed: Paintings and Tapestries by Adrianne Lobel through the end of the year. Admire the visual dialogue between the works of the two artists who share an interest in dreams, antique scientific and medical instruments, mythologies, and mysteries at A Cabinet of Curious Matters: Work by Callahan and Whitten until December 31. Admission ranges from $12.50 – $15, free for ages 19 and under.
Home to the largest collection of Roger Tory Peterson's original artwork, films, slides and papers, the Roger Tory Peterson Institute in Jamestown is adding a beautiful new exhibition. Beginning October 20, you can view the intricately patterned art exhibit titled Small Worlds from quilt artist Betsy Abbott and painter Spencer Frazer who both embody the phrase that "the whole is greater than the sum of its parts." The works featured in Small Worlds act as a vignette to the single moments in nature while also highlighting the beauty and wilderness of the natural world. On view from October 20, 2023 through April 14, 2024. Admission to the institute ranges from $6-$12 per person. And on Sundays admission is pay what you wish.
Credit: @gwegoire on Instagram
Live from Lower Manhattan it's the newly-opened Ronald O. Perelman Performing Arts Center! Found at the World Trade Center Complex, this center strives to be a cultural destination, celebrating the arts, life, and humanity. Also known as the PAC, the new addition will serve as a hub for theater, dance, film, music, opera, and media from New York and the world, with performances from emergent and established artists. The 129,000-square-foot cube-shaped building has multiple levels, three theater spaces, and a lobby with a restaurant, bar, terrace, and stage open to the public. Upcoming performances include Is it Thursday Yet? (December 8 – 23), Like They Do In the Movies with Laurence Fishburne (March 10 – April 3, 2024), and The March (December 10-16), and in Spring 2024 the PAC will host the famed Tribeca Festival. Prices for tickets vary by show.
Greenport has officially opened its camera obscura to the public at Mitchell Park, one of only 50 left in the world. This hidden gem can be found tucked away at the southeast corner of the park, but once you step inside you'll discover what makes it so special. Here's how it works: light from the outside enters through a small opening in the darkened room that projects the picture from mirrors located at the top of the building. When you look at this projection, you'll see a live moving image of what's going on outside. You can also rotate the camera 180 degrees, so on one side you'll have a view of Main Street and on the other you can spot the ferry dock. Open Saturdays and Sundays from 12 pm to 4pm. Admission is free but donations are encouraged. 
Credit: @mco_photo on Instagram
A new cricket pitch has officially been unveiled at Croton Point Park in Croton-on-Hudson. You can rent the pitch in one or two hour blocks so you'll have plenty of time to enjoy the thrill of the game and create some lasting family memories all alongside a picturesque water view (pictured). 
A new petting zoo and family fun center is open in Mount Morris. Make some fall memories with the family at Backyard Barnyard while you learn about farm animals like their adorable piglet Rosita, adventure through the bounce house obstacle courses, participate in ducky races, play in the sandbox, go awe-throwing, and more. Open through Halloween. Admission is $12/person.
Credit: @pesta02 on Instagram
For the first time ever, Beak & Skiff Apple Orchards in LaFayette is giving visitors the opportunity to explore the 1,000-acre apple orchard on a UTV. On this 90-minute guided tour, you'll drive through five generations of Beak & Skiff history, take a peek at the production facility in action, and admire those breathtaking orchard views alongside family and friends. Tours start at $80 per person. You must be 21+ to drive. 
The Notch at Whiteface Mountain (Adirondacks)
Credit: @lift_blog on Instagram
Calling all skiers! A new lift (the only one of its kind in the East) is coming to Whiteface Mountain for the 2023-2024 season. The Notch is a high-speed detachable quad lift that connects two separate parts of the mountain, the Bear Den Learning Center and the Legacy Lodge which allows riders easier access to even more trails. What makes the Notch so special is that it's actually two lifts operating seamlessly as one, creating a smooth and quick way for skiers to take in all that Whiteface has to offer.
Travel through hockey history to the store that pays tribute to the 1980 Miracle on Ice team and captain Mike Eruzione. Shop all kinds of memorabilia like the Gold Medal puck signed by Eruzione himself, jerseys from your favorite players, and other apparel. Afterward, explore the village where it all took place along Lake Placid's lively Main Street.  
What better way to kick off flannel season than with a brand new flannel straight from the Adirondacks! Stop by Adirondack Field, the newly-opened Lake Placid flagship apparel store located right on Main Street offering small-batch American-made clothing. 100% of its goods are cut and sewn in the United States and the shop's soaps, bug sprays, and lotions are made right here in the Adirondacks. Choose from Cloudsplitter organic t-shirts, cozy flannels, hats, and other accessories, all a nod to the surrounding area.
---
Don't forget to post photos of your New York adventures on Instagram and Twitter with #NYLovesFall and #iSpyNY and tag us on Facebook!