From the foothills of the Catskill Mountains to the peaks of the Adirondacks, New York is home to one of the most vivid autumns in the world. Whether you see it from a scenic roadway, from up in the air, or from a gorgeous hiking trail, the vibrant fall leaves will fill you with wonder amidst the changing seasons. Here's your everlasting map to the most scenic fall foliage activities and destinations all over New York State. 
Masks are encouraged, but optional in most settings per New York State guidelines. Individual businesses or attractions may require mask wearing. Call ahead and check websites and social media to make sure attractions and amenities are open and available. 
Originally published 07/25/2022
Hikes

Take in the beauty of the Catskills by climbing Mount Utsayantha, where you'll find stunning views of the autumn landscape. Only one mile from base to peak, it's a leisurely climb that's perfect for hikers and dogs alike.

With views of Blue Mountain Lake and stunning foliage, Castle Rock is for people who want to enjoy the outdoors without spending all day on the trail. A moderate 2.8-mile hike in and out, you can expect scenic outlooks of the Adirondacks as well as some excellent birding spots.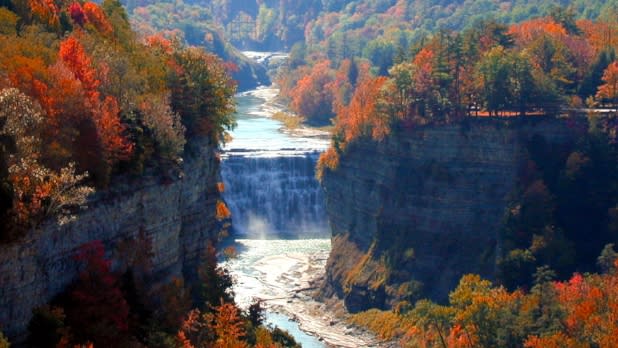 Known as the "Grand Canyon of the East," Letchworth State Park is home to waterfalls and plunging gorges. Walk the Gorge Trail to see how it earned its nickname, and if you're feeling adventurous, go whitewater rafting (through October 29) on the Genesee River where you'll go through the heart of the canyon.

Straddling the Hudson River and surrounded by the rolling hills of Hudson Highlands State Park, Breakneck Ridge is an exhilarating climb where rock scrambles and riverfront trails offer scenic overlooks all the way to the top. And once you see the view of Storm King Mountain from across the river, you'll understand why this trail is so popular.
Train Rides

Experience fall by rail. Board a Fall Foliage Train at Utica's historic Union Station. Watch as the Adirondack Scenic Railroad takes you through remote forests, above sparkling rivers, and into the magnificent beauty of Adirondack Park. For even more mountain foliage, hop aboard the Catskill Mountain Railroad (pictured)—make sure to get a window seat!
Round up the whole family for the Cooperstown & Charlotte Valley Railroad's Pumpkin Patch Train (October 21 and 22), where you can soak in the changing colors of the foliage while the little ones "ooh" and "ahh" over the varying sizes of pumpkins along the way. Here's a wider list of scenic options by rail.
Air Adventures

Fall foliage from a distance is really something. And by a distance, we mean a vertical distance. Get a glimpse of a lifetime at Gore Mountain and Whiteface Mountain, where you can take a soaring gondola sky ride.
Calling all adrenaline junkies—strap on a helmet and zoom through WildPlay at Thacher Park (open until October 29). Surrounded by the Helderberg mountains and lush fall foliage, you'll climb up a ladder and start making your way from tree to tree by walking across tightropes, climbing up cargo nets, gliding down ziplines, flying through the air on rope swing.
Want to go even higher? Step aboard a glider at Harris Hill Soaring Center (through late October) and see the leaves turn to delicate brushstrokes on a larger landscape beneath you.
High Points

At New York's easternmost point, Montauk Point Lighthouse (pictured), the oldest lighthouse in the state, points to westward horizons out one window, and stunning views of fall foliage out another. The view of the fall leaves against the blue water will take your breath away. The lighthouse tower, grounds, museum, and gift shop are all open and ready for you to explore!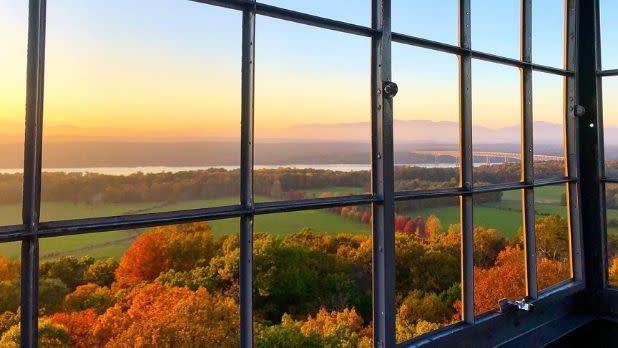 Credit: @amanda_whyte_ on Instagram
Climb to the top of the firetower at Ferncliff Forest (pictured) and take in sweeping panoramic views and superb leaf peeping in the Hudson Valley. When your feet hit the ground, traverse the forest's 12 miles of trails by foot or bicycle!

West Point's Trophy Point (pictured), a scenic overlook of the Hudson River Valley, is ideal for highland vistas. West Point is open to visitors, so add it to your travel list, and while you're there, take a moment to glance away from the leaves and give your attention to the Battle Monument, one of the largest columns of granite in the world.
By Water
Who says you can't enjoy nature in the big city? Take in stunning views of New York Harbor, the Statue of Liberty, and the Manhattan skyline aboard the Staten Island Ferry. The cityscape is trim with brownish-reddish foliage, making for a once-in-a-lifetime view.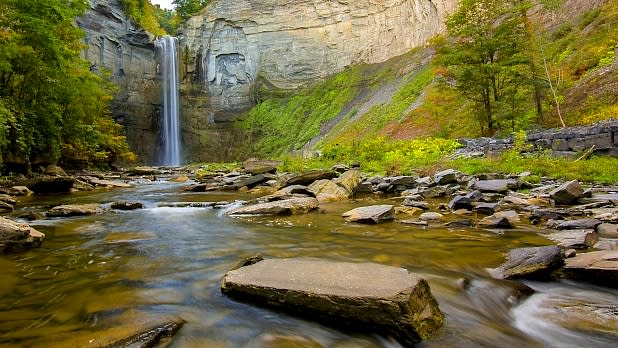 Travel to Ithaca to pay New York's highest waterfall at Taughannock Falls Overlook (pictured) a visit. Travel with friends or family so you have someone to throw handfuls of fallen leaves at on your hike to the water's edge! Please also give back by not leaving anything behind. It's important not to litter and you need to be prepared to bring everything home with you. For more guidance on how to respect the outdoors, familiarize yourself with the Leave No Trace Seven Principles.

Cruise the Palisades Parkway to Bear Mountain State Park's rugged mountains, where the once-green trees slowly turn the color of rust. Stop to fish or picnic…or, if you're daring, take a dip in the chilly water! Drive the Scenic Byway along Erie Canal's Mohawk Towpath, Cayuga Lake's countless vineyards, or Upper Delaware's quiet villages.
City Sights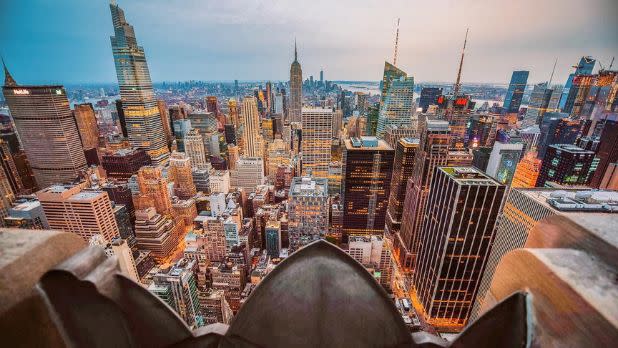 In Manhattan, reserve your tickets online and climb the Empire State Building for a top-down look at the Big Apple—and all the trees that lie within.
Walk the Brooklyn Bridge between NYC and Brooklyn to soak in some history while you enjoy the scenic collision of man-made beauty and vibrant foliage.
Get a 360-degree view of the cityscape from the heart of NYC on the 70-story Top of the Rock Observation Deck at Rockefeller Center. It's a spectacular view you don't want to miss!
Share photos of your New York adventures on Instagram and Twitter with #ILoveNY and #iSpyNY and tag us on Facebook!