Have you ever found yourself gazing toward the sky on a clear night and wondering which planets, stars, and constellations are looking back at you? Whether you're preparing to experience the total solar eclipse happening in April 2024, Earth's once-a-year brush with a meteor field, or plan to polish up on your constellation trivia, New York State offers a multitude of educational and interactive sites to stargaze and learn more about the night sky—visit these observatories, planetariums, and dark sky destinations. 
Masks are encouraged, but optional in most settings per New York State guidelines. Individual businesses or attractions may require mask wearing. Call ahead and check websites and social media to make sure attractions and amenities are open and available. 
Originally published 08/09/2019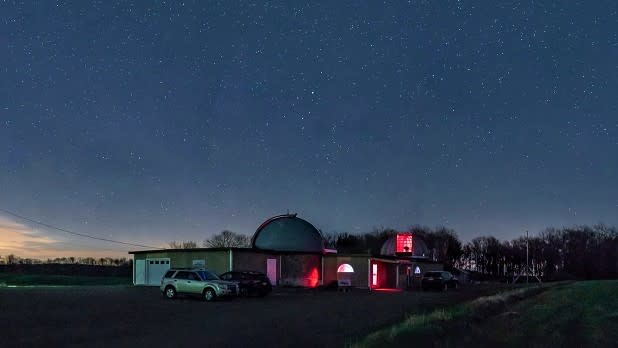 Have you ever wondered what deep space looks like? Or wanted to see the Moon's Sea of Tranquility "up close?" Head to the Martz-Kohl Observatory in Frewsburg! The observatory's two telescopes have the power to peer into deep space and photograph distant stars and planets. Join amateur astronomers for public discussions and stargazing parties. Check the calendar for Open Observatory nights that offer guided viewings of the night sky as long as it's clear out. Visit during special program nights to learn more about planets and constellations, as well as to attend lectures from astronomy experts.
Atop a 1,740-foot hill in Vestal, the Kopernik Observatory & Science Center is one of the best-sited and best-equipped public observatories in the Northeast United States for stargazing. Regardless of sky conditions, the observatory is open to the public every Friday night from March through mid-December, as well as on selected dates in January and February. Friday night events include presentations on a wide range of scientific and technological topics, and, after the program, observing of the Night Sky through Kopernik's telescopes. Unless otherwise noted, all Kopernik Friday Night programs are streamed live and then saved on the Kopernik YouTube channel. On special nights for live observing sessions, see planets, star clusters, nebulae, and comets through Kopernik's telescopes. Onsite events also include the Winter Star Party in February, RocketFest in May or June, Race to the Stars in April, AstroFest in October. The summer schedule includes viewing nights for annual meteor showers, such as the August Perseid Meteor Shower, and weeklong summer camps for students in grades 2-12. For children ages 3-6, KoperniKids classes are held once a month on a Saturday morning year-round, a kid-friendly approach to science, technology, engineering, and math programs. For guests of all ages, the Kopernik Science Park is open dawn to dusk. Tours of the facilities are available for a small donation; call in advance.


Credit: Yuliva Levit for the Hudson River Museum
Travel to deep space when you visit the Hudson River Museum's Planetarium in Yonkers. This kid-friendly attraction offers immersive shows like "The Sky Tonight," a breathtaking tour of the night sky from the Hudson Valley, where you can gaze at visible planets, bright stars, periodic comets, seasonal constellations, upcoming rocket launches and more! Special programming is offered for grades 3-12, but adults can get in on the fun too. Check the planetarium's calendar for special star parties, celestial-themed events, and much more.
The Adirondack Park is an area with such low light pollution, it is known as a "dark skies" destination. There, you can clearly see the spectacular Milky Way like never before. In Tupper Lake, home of the world-famous Wild Center, the Adirondack Sky Center & Observatory has been operating a full scale observatory since 2013.  With multiple, powerful, and permanently mounted telescopes, visitors can see well into deep space. Weather permitting, the observatory is open to the public every Friday in the summer (from Memorial day through Labor Day), and on the first and third Fridays of the month throughout the winter, as well as during other special astronomical events. The center's annual Astrophotography conference is held each fall. Astrophotographers at all levels learn how to take astonishing pictures of objects in deep space or within our own solar system. Learn on your equipment during the four-day immersive and hands-on conference.


Credit: Rochester Museum & Science Center
Visit every planet in our solar system at the Strasenburgh Planetarium at the Rochester Museum & Science Center. See alien landscapes and beautiful moons, and discover just how colorful the planets can be! "The Sky Tonight," a full-dome projection system show presented in real time, is a hit for all ages and takes viewers on a tour of currently visible stars, constellations, and planets. On select Saturday nights, when the weather is favorable, the planetarium offers free telescope viewing of the night sky from sunset until about 9:45 pm. Guests climb to the top of the planetarium and are treated to a star-studded experience from volunteers with the Astronomy Section of the Rochester Academy of Science (AS-RAS), a local astronomy club. Buy an individual show admission to the Planetarium or purchase a Museum & Science Center and Planetarium combined admission ticket to enjoy both terrestrial and extraterrestrial fun!


Credit: @dario.nyc on Instagram
Take a grand tour of the universe at the world-renowned Hayden Planetarium Space Theater. Currently screening is the Worlds Beyond Earth Space Show which takes viewers on an exhilarating expedition through the solar system, from our own blue planet to far beyond the habitable zone. From the earth, all the way to the edge of the observable universe, Astronomy Live programs put cosmic events into perspective, and offer an interactive tour of the constantly changing night sky. See constellations come to life, fly along Saturn's rings, and peer into the Dark Universe where mysterious cosmic phenomena await. The Hayden Planetarium displays the frontier of our universe, providing educational shows for all ages.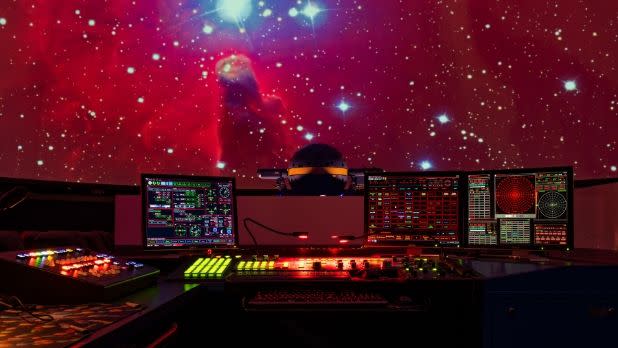 Located in Centerport, the Vanderbilt Museum's mansion and grounds include one of the largest and most advanced planetariums in the United States. The Vanderbilt's Charles and Helen Reichert Planetarium is a 147-seat facility where education meets entertainment. Celestial events are recreated and projected onto the 60-foot domed theater, transporting visitors to distant galaxies and through time and space. At the observatory, visitors can peer beyond the night sky to see the stars overhead every Friday night from 8pm-10pm weather permitting. Join a guided astronomy experience, or visit during the day to view the sun safely. Also on Long Island is the Custer Observatory. This public observatory offers Saturday night observing from 7 pm until midnight, and knowledgeable staff is on-site to provide a guided tour of the night sky.
This camping, fishing, and boating paradise is a daytime dream for anyone who loves spending time in nature. At night, clear skies and low light-pollution above Wellesley Island State Park make for a dazzling and vibrant canopy of stars. This park is open year-round, but during the Leonid Meteor Shower in November, the display is one of outer space's most thrilling.
Now that you know where to go for stargazing and cosmic educational opportunities, you need to know when to go! Try for these dazzling, annual meteor shows (and make sure to check for most current dates!): Perseids (August); Orionids (October); Leonids (November); Geminids (December); Quadrantids (January); Lyrids (April); Eta Aquarids (May).
---
Don't forget to post photos of your New York adventures on Instagram and Twitter with #ILoveNY and #FindWhatYouLoveNY and tag us on Facebook!