Are You Thinking About Outsourcing Custom Course Development?
There is a myriad of benefits associated with outsourcing custom course development projects. However, you need to have a few fundamental things in place before you can achieve outsourcing success and, hopefully, forge a long-lasting partnership with a custom content company. This eBook maps out the entire process and best practices that every organization should consider before taking the custom solutions route.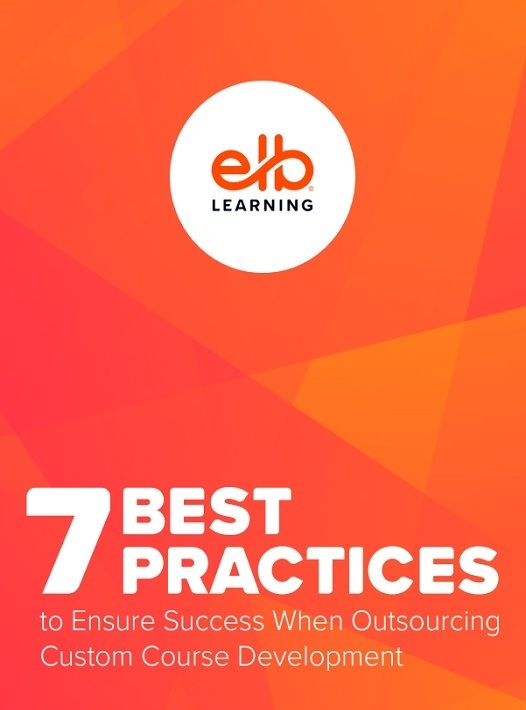 eBook Release
7 Best Practices To Ensure Success When Outsourcing Custom Course Development
Follow these seven best practices to ensure your project and partnership are a success!
What Are The Secret Ingredients For Outsourcing Success?
One of the most common misconceptions about custom course outsourcing is that you have to relinquish control. In actuality, an effective partnership is more like a collaboration. You must still ensure that your objectives are clear and that the right learning tech is in place. And that's just the tip of the outsourcing iceberg. Custom partners have the know-how and experience to create memorable and engaging experiences for your team, but you play a vital role in shaping your L&D programs and evaluating initiatives after launch.
ELB Learning's eBook makes the entire process approachable. You'll learn how to set realistic goals, choose the best solution for your needs, and foster continuous learning within your organization. It even explores how to make the most of metrics to ensure that everything aligns with your learning objectives and helps you progress towards your goals.
About This eBook
Have you already identified existing gaps? What does it take to create a learner-centered design that leaves a lasting impression? Here's a sneak preview of what's inside this insightful guide:
Uncover Your Learning Objectives, Goals, & Success Criteria
Align with a Partner Who Can Help Realize Your Goals
Architect the Right Learning Solutions for Your Unique Needs
Choose the Right Learning Technology that Enables Architecture
Unleash a Learner-Centered Design
Encourage Continuous Learning
Evaluate the Learning Experience
Conclusion
Download the eBook 7 Best Practices To Ensure Success When Outsourcing Custom Course Development to get the most from your next project partnership.