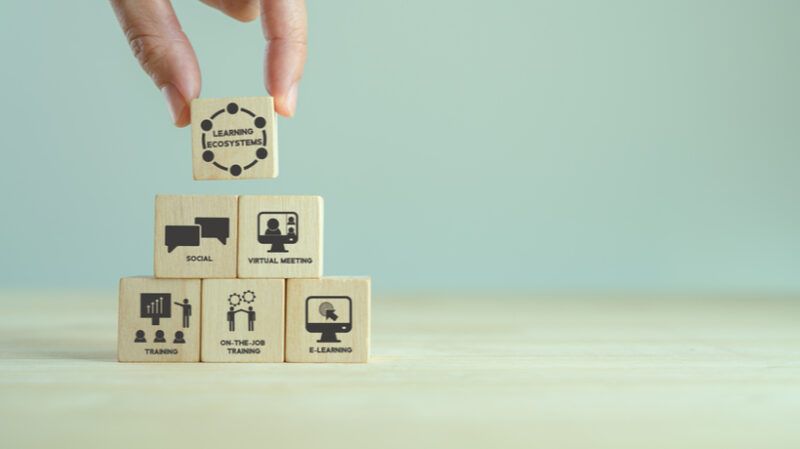 Blended Learning: An Introduction
Blended learning has been one of the most widely discussed (and implemented) practices of the past few years. But it's not an entirely new phenomenon. In fact, the term blended learning was first coined in the late 1990s and refers to "the thoughtful integration of classroom face to face learning experiences with online learning experiences" [1].
The COVID-19 pandemic has brought blended learning to the forefront of conversation nationwide. Blended learning approaches have been increasingly promoted and adopted by school systems and higher educational institutions across the United States. However, these environments and organizations are not the only ones that realize the value of blended learning. Boasting several distinct advantages to traditional methods of employee learning, blended learning has recently seen a dramatic increase in adoption by businesses and other organizations as a way to train, reskill, and upskill employees.
In fact, some 43% of training hours were delivered with blended learning techniques in 2021, up from 23% the year prior, according to a survey of businesses in Training's 2021 Training Industry Report [2]. Additionally, a majority of survey respondents (56%) indicated they plan to return to some classroom training while maintaining some of the remote learning instituted during the pandemic.
Examples
Some examples of blended learning include:
A live, instructor-led virtual classroom that allows for the personal attention of an in-person classroom but is accessible online, from anywhere, coupled with periodic in-person trainings.
A Learning Management System (LMS) that monitors employee progress through eLearning video courses, letting management provide feedback and assistance when needed, in conjunction with live classroom sessions.
In-person classroom trainings supplemented with custom eLearning videos aimed at conveying information and providing training unique to a business's needs.
Advantages
By combining virtual and online learning approaches with face to face, in-person instruction, blended learning models are able to deliver "the best of both worlds" in terms of employee learning and corporate training. Advantages include:
1. Increased Effectiveness
Blended learning allows learners to complete certain sections of training using online resources, saving time in the classroom by enabling assessment of learners' understanding after the fact. In addition, blended learning can incorporate a variety of different learning approaches and permits the curriculum to be customized to employees' core learning styles, whether visual, auditory, reading/writing, or kinesthetic.
2. Increased Engagement
A blended learning model breaks the monotony of typical corporate training, giving learners a variety of digital tools and supportive resources to gain knowledge and truly retain information. Such a model provides a truly interactive learning experience, increasing learner engagement by providing different options for self-study and thoughtfully combining digital and real-world training techniques.
3. Flexibility
Blended learning approaches give managers and employees flexibility and convenience, and they empower employees by letting them learn at their own pace using digital tools. Learners can revisit microlearning lesson videos and take online assessments at their own pace to ensure they retain the material.
4. Decreased Costs
There are many costs associated with in-person, traditional classroom training, including expenses for travel, transportation, lodging, and meals. IBM estimates that almost 40% of classroom training costs are spent on travel and lodging. Business leaders and executives can cut costs and increase Return On Investment by using a blended learning model for a company's corporate training.
More Statistics Around Blended Learning
According to Training Magazine's 2021 Training Industry Report, the average company in the U.S. spent $1071 per employee this last year on training costs [2].
A recent Gallup poll shows that 45% of full-time employees in the U.S. work from home, whether all of the time or part of the time [3]. And a May 2021 Mercer study found that 70% of companies said they were planning to adopt the hybrid work model [4]. As more and more U.S. employees are able to work remotely, blended learning will only continue to grow.
A 2019 study on blended learning found that where human interaction was present in a blended workplace learning program, it was reported to be linked with more active behavioral engagement, higher cognitive engagement, and stronger and more positive emotional engagement than where human interaction was absent.
Blended Learning For Employee Training
Blended learning is a powerful approach to corporate training, learning, and development that has several clear benefits for businesses. Whether you want live virtual training led by an expert instructor or you prefer to have employees train and learn via the most up-to-date, focused eLearning videos, a blended learning approach can help your business achieve its reskilling, upskilling, and other training goals.
References:
[1] What Do We Mean by Blended Learning?
[2] 2021 Training Industry Report
[3] Remote Work Persisting and Trending Permanent
[4] Most US employers with flexible work plans choose hybrid work, Mercer says
Originally published at www.intellezy.com.