Lake Living in Holland and Saugatuck, Michigan
"Sometimes the best surprises are found in the things you were taught to hate.
The state of Michigan held my childhood ire born from my scarlet-and-gray fandom — even after a decade of Buckeye dominance over the Wolverines. Still, that state up North, with its 3,288 miles of shoreline (second to Alaska), more than 11,000 inlet lakes, 4 million acres of forest, robust legal cannabis program and plateful of award-winning restaurants, breweries and wineries, beckoned. 
My first breath of clean southwest Michigan air feels like freedom — or maybe that's just the edible kicking in. Timely, as I'm barreling down a 200-foot sand dune in a 25-person, open-air Ford coupe-turned-dune buggy. Between Saugatuck and Holland, Michigan, on the state's west coast, the 1,000-acre Saugatuck Dunes State Park features 14 miles of sandy, wooded hiking that opens to the shoreline, but I prefer the thrills and laughs of the Saugatuck Dune Rides, which started in 1954 and is one of the few remaining dune rides in the country."
Read more about managing editor Dillon Stewart's trip up North. >>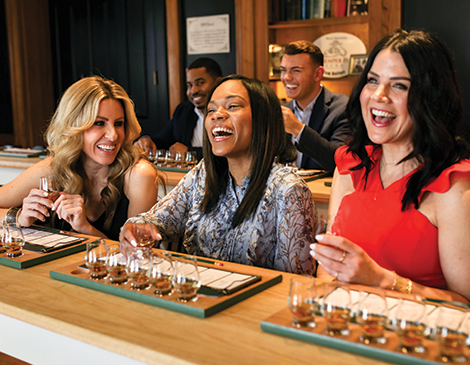 Bourboning on the Kentucky Bourbon Trail
"Our guide at Rabbit Hole Distillery is emphatic: 'There's one thing I want y'all to remember — Bourbon is a verb! So when you're in Kentucky I want y'all to be bourboning. Don't underbourbon. I need a job!'
On our two-hour tour at Rabbit Hole in Louisville we walk through the production areas witnessing the processes of fermentation, distillation and aging. Invited to stick our fingers into the bubbling mash and take a taste, we do just that, assured the germs will all burn off. 
Most distillery tours end with a tasting, and at Rabbit Hole, we enjoy our samples in a swanky lounge with floor-to-ceiling views of the Louisville skyline. But this tour also began with the tasting of a bourbon cocktail. Our hosts ensure we are properly bourboned every step of the way.
I've been traveling to Kentucky at least once or twice a year for more than two decades. My grandfather grew up there, so maybe part of me sees it as 'The Old Country.' But more than that, I'm just fascinated with the place. With a culture based on bourbon whiskey, race horses and genteel living, there's simply no other place in the world like it."
Read more about travel writer Rich Warren's weekend of bourboning. >>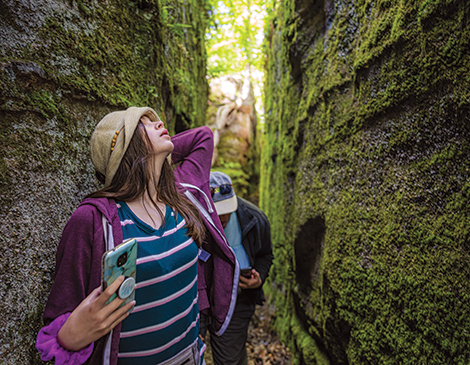 Hiking Up the Allegheny National Forest
"According to some cultural beliefs, rain on your wedding day symbolizes good luck in the marriage. I ask myself if the same could be true for a road trip. After all, it's pouring when my 8-year-old daughter, Kinley, and I pull out of the driveway for a few days in the great outdoors of northwestern Pennsylvania and western New York.
I finally get my answer two hours into the journey when the setting sun drops below the dark rain clouds, shining like a fireball through the misty air.
A rainbow arcs in front of the car and the figurative pot of gold is a sign that reads, "Welcome to Pennsylvania Wilds," at the opposite end of the highest road bridge in Pennsylvania, which soars 270 feet above the Allegheny River on Interstate 80."
Read more about travel writer Laura Watilo Blake and her daughter's treck east. >>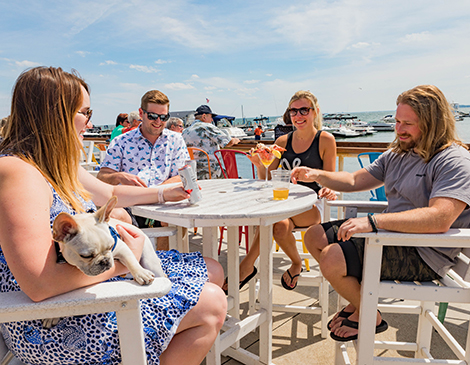 Waterfront Wonder
Get on, in or near the water this Summer. If Cleveland's lake life isn't scratching your itch for boating, fishing, swimming and beach lounging, these quick trips provide a change of scenery with the allure of summer fun on the water.
Kelleys Island
This Ohio island is an oasis of natural beauty. Enjoy birdwatching and hiking, topped off with a visit to the glacial grooves. When it's time to cool off, grab a golf cart and head to the beach. For an experience that can't be found in Cleveland, don scuba gear to get a look at dozens of shipwrecks off the island's coast. 
Presque Isle State Park 
This Pennsylvania gem boasts beautiful, quiet beaches perfect for either a romantic getaway or family outing. Enjoy a waterfront picnic with views of the city and that other Perry Monument. Biking, horseback riding, birding and hiking top off the fun. Check out the Lady Kate Sunset Boat Tour to get on the water.
Marietta and Ohio River
Marietta was the first permanent settlement in the Northwest Territory. Since then, it has stayed true to its river heritage. Both the Campus Martius and the Ohio River museums explain this important history in detail. The riverfront park offers excellent waterfront views as well as a perfect locale for a summer picnic.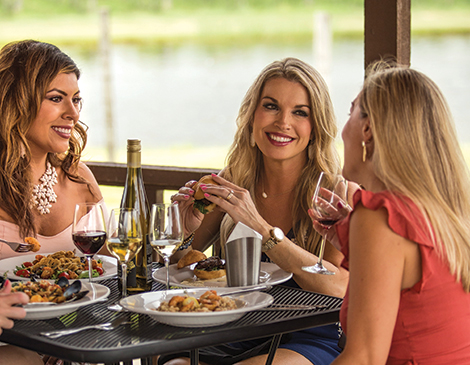 Summertime Sips and Snacks
Summer is all about a cold drink after a long day in the sun, a backyard barbecue and making s'mores over a campfire. When it comes to delicious eats and refreshing drinks, there are favorites to be found all over the region.  
The Ashtabula Wine Trail
Just 5 miles from the lake are 30 wineries and miles of vineyards that provide over half of all grapes grown in Ohio. Rooted in an 80-year family tradition, Ferrante Winery & Ristorante in Geneva is one of the largest wineries on the trail and offers modern tastes, including Italian dishes precisely paired with the drink menu. 
Market Street Soda Works 
Located in downtown Newark, Ohio, this family-owned soda shop offers over 150 varieties of craft bottled soda ranging from standards like cream soda to wilder options like PB&J. Top off your visit with a trip to the Canal Market District, a farmers market featuring produce and arts-and-crafts vendors. 
Dining in Detroit
The Motor City is about more than cars. Joe Ann's BBQ serves up chicken and ribs from its open charcoal pit. Chartreuse Kitchen & Cocktails offers everything from braised rabbit to walleye. Save room for desert and stop by Sister Pie, a renowned Detroit eatery with seasonal pie flavors, including classic cherry.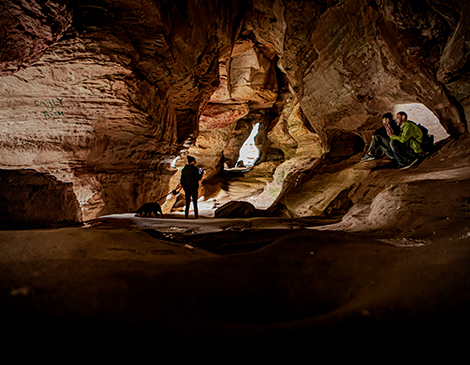 Take to the Trails
Warm weather has returned — and the natural beauty of the Midwest is calling. That makes right now the perfect time for nature lovers to get out of the house and start exploring.
West Virginia 
The title "almost heaven" is fitting for a state where winding trails meet flowing waterfalls. Cathedral Falls is a top draw, while the Monongahela National Forest offers five waterfalls tucked into the woods. Both the Allegheny and Appalachian trails wind through the state and offer longer hiking journeys.
Hocking Hills 
Hocking Hills in Southern Ohio boasts cabins, campsites and over 20 miles of hiking trails. Notable sites include the Old Man's Cave, where rock formations beg to be explored, and the 5-mile Whispering Cave Trail. The park has a variety of cabins, ensuring the adventure does not stop at the end of the trail. 
Kokosing Gap Trail 
Once a part of the Pennsylvania railroad, this 14-mile trail stretches from Mount Vernon to Danville, cutting through the town of Gambier. Perhaps the most notable part of the trail, however, is the Bridge of Dreams, the second-longest covered bridge in Ohio, bringing travelers over the Mohican River.